Damn Fine Chicken
9
55
322
Ingredients
Minutes
Calories
Prep
Cook
Servings
10 min
45 min

4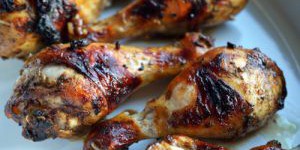 This easy and delicious Whole30-friendly recipe for roast chicken with caramelized shallots and a tangy vinegar sauce is one of my favorite weeknight meals!
Ingredients
| | |
| --- | --- |
| 2 large shallot(s) | Shallots (minced) |
| 3 green onion (stem) | Green onion, scallion, ramp (or Calçot onions, thinly sliced) |
| 3 tbsp | Sherry vinegar (or balsamic vinegar) |
| 3 tbsp | Extra virgin olive oil (coconut oil; avocado oil; melted ghee) |
| 1 tbsp | Coconut aminos, Coconut Secret |
| 1 tbsp | Fish sauce |
| 1 pinch | Kosher salt |
| 1 dash | Black pepper (freshly ground) |
| 10 drumstick | Chicken, drumstick (skinless) (or 8 chicken thighs) |
Instructions
Mix together the shallots, onions, vinegar, oil, coconut aminos, fish sauce, salt (2 large pinches), and pepper (several grinds) in a large bowl.
Then, plop the chicken on top, and use your hands to make sure it's well-covered in marinade.
Allow the chicken to marinate in the fridge for a few hours. Personally, if I know I'm going to be short on time (which is almost always), I marinate this dish in the morning – that way, the chicken'll be ready for me by the late afternoon, when I start preparing dinner.
When you're ready to cook, preheat the oven to 400°F on convection bake (or 425°F non-convection). Arrange the chicken (skin-side down) in an oven-safe baking dish and pop it in the hot oven.
Bake the chicken for 40-45 minutes, flipping the pieces halfway through the cooking time. If you want to brown the skin some more, broil it for a minute or two.
Arrange the drumsticks on a platter, and pour the cooking liquid over the chicken.
Simple and ridiculously good!
Nutrition Facts
Per Portion
Calories from saturated fat
28.7
Polyunsaturated Fat
2.8 g
Monounsaturated Fat
9.6 g
Total Carbohydrate
14.3 g
Dietary servings
Per Portion
Energy sources