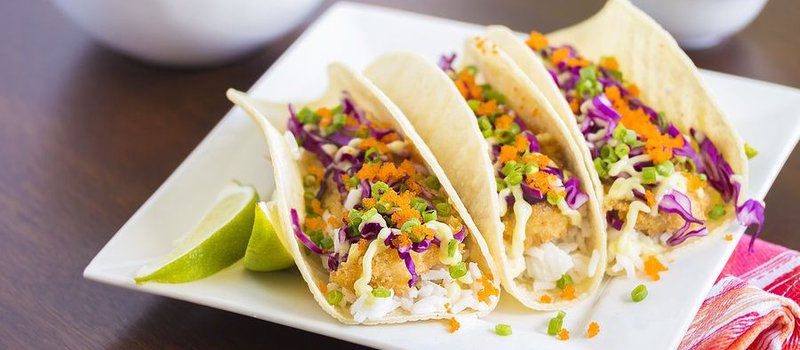 EASY Fish Tacos with Cilantro Slaw
Prep
Cook
Ready in
Servings
20 min
15 min
35 min

6
Ingredients
| | |
| --- | --- |
| 454 gm | Wild Atlantic halibut (skinless, cut into 1-inch chunks - any white fish will work) |
| 3 fruit | Lime |
| 1 whole lime(s) | Lime peel (zest) |
| 2 clove(s) | Garlic (quartered) |
| 1 bunch | Cilantro (coriander) |
| 1 bunch | Green onion, scallion, ramp (half coarsely chopped and half finely chopped) |
| 1 1/2 tsp | Cumin |
| 1 pinch | Sea salt |
| 1/4 cup | Extra virgin olive oil |
| 4 cup shredded | Green cabbage (TIME SAVER: buy bagged and shredded) |
| 2/3 cup | Greek yogurt, plain, 1% M.F. (organic) |
| 12 medium tortilla(s) | Tortilla, corn (8-12, organic, warmed) |
| 454 gm | Salsa verde, ready to serve (1 jar) |
Instructions
In a food processor, or high powered blender add lime zest, squeeze in the juice of 1 lime, the garlic, cilantro, coarsely chopped scallions, cumin and 1 teaspoon salt and pulse until roughly chopped.

Add 2 tablespoons of the olive oil and 1 tablespoon water and continue to pulse until the mixture becomes a chunky sauce.

Reserve 1 tablespoon of the sauce.

Toss the halibut in a bowl with sauce and let marinate for 10 to 15 minutes

In a large bowl, toss the remaining 1 tablespoon cilantro sauce with the cabbage, finely chopped scallions, the juice of the second lime, 1 tablespoon of the olive oil and 1/2 teaspoon sea salt.

In a small bowl, stir together the Greek yogurt, the juice of the remaining lime and a pinch of sea salt.

Heat an oiled large nonstick skillet (preferably ceramic) over medium-high heat.

Add about half of the fish, so the pieces are in a single layer, and cook, turning, until the fish is just opaque and flakes easily with a fork, about 4 minutes.

Transfer the fish to a plate and cook the remaining fish.

In warmed tortillas, place yogurt sauce, cabbage, fish, and top with salsa.

ENJOY!

Nutrition Facts
Per Portion
Calories from saturated fat
16.5
Polyunsaturated Fat
2.5 g
Monounsaturated Fat
7.7 g
Dietary servings
Per Portion
| | |
| --- | --- |
| Fruit | 0.5 |
| Grain | 1.9 |
| Meat | 0.8 |
| Milk Alternative | 0.2 |
| Vegetables | 1.9 |
Energy sources
About
Contact Us
Meal Garden, 326 1/2 Bloor Street West, Unit 4, Toronto, Ontario, M5S 1W5, Canada