Easy Paleo Salmon Cakes
11
25
88
Ingredients
Minutes
Calories
Prep
Cook
Servings
10 min
15 min

7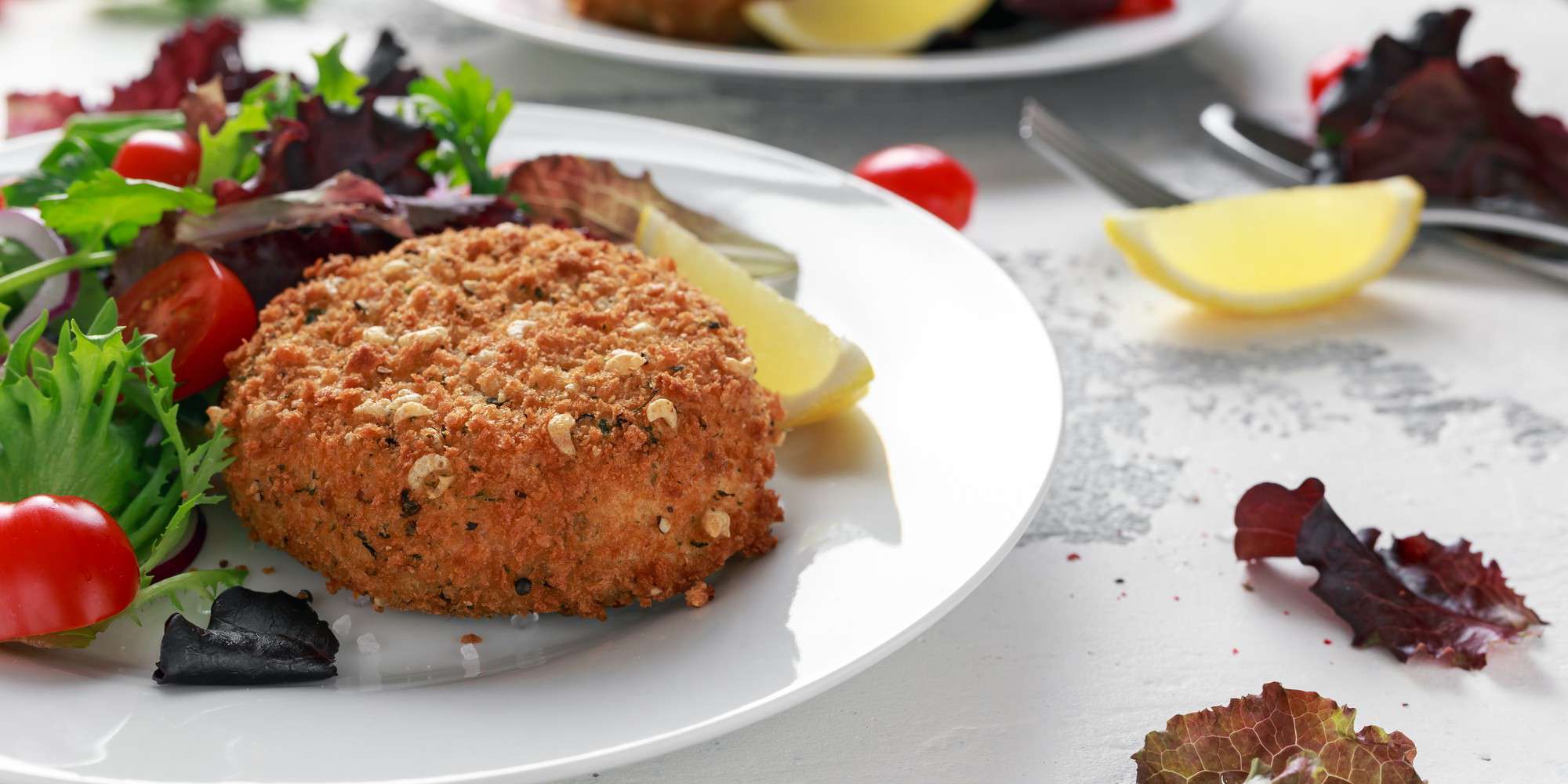 Healthy Vegetable Packed Paleo Salmon Cakes! Super easy, super simple, super delicious!
Ingredients
| | |
| --- | --- |
| 142 gm | Atlantic salmon,wild, boneless (canned or finely diced; salmon skin off; .see notes) |
| 1/2 tsp | Garlic (minced) |
| 1/3 cup | Sweet potato (squash or pumpkin; pureed or mashed) |
| 3 tbsp | Coconut flour (see notes) |
| 1/4 tsp | Paprika (or smoked paprika) |
| 1/4 tsp | Kosher salt (or sea salt) |
| 1/4 tsp | Black pepper |
| 1/4 tsp | Curry powder (optional) |
| 1 tsp | Rosemary, dried (1 fresh sprig) |
| 2 medium egg | Egg |
| 1 tbsp | Coconut oil (or butter for the pan) |
Instructions
First mash up your salmon. If you are using fresh versus canned, remove any extra skin.
Place your salmon in a bowl and then add in your mashed or pureed veggies (see notes for cooking options). You can used canned pumpkin or sweet potato for a fast prep. Mix together.
Next add in coconut flour 1 tbsp at a time. You will need only 3-4 tbsp depending on the type of salmon you use. Then mix in herbs and seasonings. Mix Together.
Lastly, add in your 2 eggs.
Mix well until the batter is thick enough to get be able to form patties. If batter is too runny, add 1 tbsp more coconut flour.
Form into 8 small balls or roll into larger 5-6 balls.
Lay them on parchment paper.
Press them into patties/cakes so they are around 1 inch thick.
Now turn on your skillet to medium high. Add your butter or oil.
Once heated, add in 3-4 patties/cakes at a time or less. Cook for 3 to 4 minutes on each side or until you see the salmon is cooked thoroughly. If you are using canned salmon, they will cook faster.
Remove from skillet. Add more 1 tsp more or so of butter/oil and repeat for the next batch of 3-4 patties/cakes.
Garnish with extra rosemary, black pepper, chili flakes, or garlic if desired and serve with your choice of dip/sauce or as is.
This dish pairs great with steam veggies. I added a sprinkle of Pomegranate seeds to make it more of a holiday dish.
Notes:
Quick Tips:
If you choose to use fresh squash, simply cut squash in half, remove seeds, and place in a microwave safe bowl with 2 tbsp water. Cook on high for about 3-4 minutes. Scoop inside and then mash or puree with blender.
If you are using Canned veggies, you might need to add that extra coconut flour or an egg white for binding.
Nutrition Facts
Per Portion
Calories from saturated fat
33
Polyunsaturated Fat
0.8 g
Monounsaturated Fat
1.2 g
Dietary servings
Per Portion
| | |
| --- | --- |
| Meat | 0.2 |
| Meat Alternative | 0.1 |
Energy sources