Fiona's Phenomenal Fish Packets
19
30
309
Ingredients
Minutes
Calories
Prep
Cook
Servings
15 min
15 min

4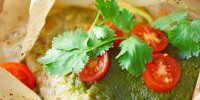 Fiona's Phenomenal Fish Packets are a delicious Whole30-friendly weeknight supper!
Ingredients
| | |
| --- | --- |
| 1 onion(s) | Sweet onion (peeled and coarsely chopped; about 1 cup; Green Marinade) |
| 1 1/4 cup | Basil, fresh (packed; Green Marinade) |
| 1 cup | Cilantro (coriander) (packed leaves and stems; substitute Italian parsley if you hate cilantro; Green Marinade) |
| 1/4 cup | Mint, fresh (packed; Green Marinade) |
| 1/4 cup | Fish sauce (Green Marinade) |
| 3 clove(s) | Garlic (peeled; Green Marinade) |
| 1 whole lime(s) | Lime peel (zest) (Green Marinade) |
| 1/4 tsp | Black pepper (freshly ground; Green Marinade) |
| 1 tsp | Ancho chili powder (Aleppo pepper; or red pepper flakes; Green Marinade) |
| 2 tbsp | Apple juice (or; 1 tsp maple syrup if you're not on a Whole30; Green Marinade) |
| 2 medium | Carrots (peeled and ends trimmed) |
| 2 medium | Zucchini (ends trimmed) |
| 1 dash | Kosher salt |
| 4 fillet (6oz) | Atlantic Cod (skinless & boneless; about 3/4-inch thick) |
| 2 fruit | Lime |
| 2 tbsp | Extra virgin olive oil |
| 1 dash | Black pepper (freshly ground) |
| 12 tomato | Cherry Tomatoes (halved) |
| 4 sprig | Cilantro (coriander) (chopped; optional) |
Instructions
If you don't have any leftover green marinade in the freezer, blitz up a batch! Throw all the ingredients for the marinade in a high speed blender and purée until you get a smooth, bright-green marinade. Reserve ¼ cup for this recipe, and freeze the rest in a silicone ice cube tray. The future version of you will thank you later.
Preheat the oven to 450°F with the rack in the middle. Use a spiralizer, julienne peeler, or your fancy knife skills to cut the zucchini and carrots into thin spirals or matchsticks. Toss the vegetables in a bowl with a little salt—but not too much 'cause the marinade's well-seasoned.
Grab 4 large sheets of parchment paper, and fold each piece in half. Draw half a heart on each piece of paper so that when you cut them out, you get full hearts.
Open up the parchment pieces and lay them flat. Spread ¼ of the seasoned veggies on one side of the crease in each heart.
Place a fish fillet on top of the veggies. Spread a tablespoon of the green sauce on the filet. Squeeze half a lime on the fish and drizzle with ½ tablespoon of olive oil. Repeat with all 3 packets.
Fold the other half of each parchment heart on top of the fish and tightly crimp the edges together, starting at the top-center of the heart.
Make sure each packet is tightly sealed by turning and crimping the edges. At the pointed bottom end of the hearts, twist the paper to seal well.
Place the packets on a rimmed baking sheet. Cook in the oven for 7-10 minutes or until the fish is cooked to your desired doneness. If your fillets are thicker, they'll take longer to cook.
If you're not sure about whether the fish is cooked through, stab the packet with a meat thermometer to know for certain. My kiddos like the fish to be flaky and opaque so I aim for a finished cooking temp of 135°F-140°F.
Use a pair of kitchen shears to cut open the packet as soon as they're done cooking (but be careful—the escaping steam is hot!).
Toss a few of the cut cherry tomatoes and optional cilantro garnish on the cooked fish, and serve.
Nutrition Facts
Per Portion
Calories from saturated fat
11.9
Polyunsaturated Fat
1.4 g
Monounsaturated Fat
5.2 g
Total Carbohydrate
22.0 g
Dietary servings
Per Portion
| | |
| --- | --- |
| Fruit | 0.6 |
| Meat | 1.9 |
| Vegetables | 4.4 |
Energy sources