Garlic Parsley Spaghetti Squash
5
55
198
Ingredients
Minutes
Calories
Prep
Cook
Servings
10 min
45 min

4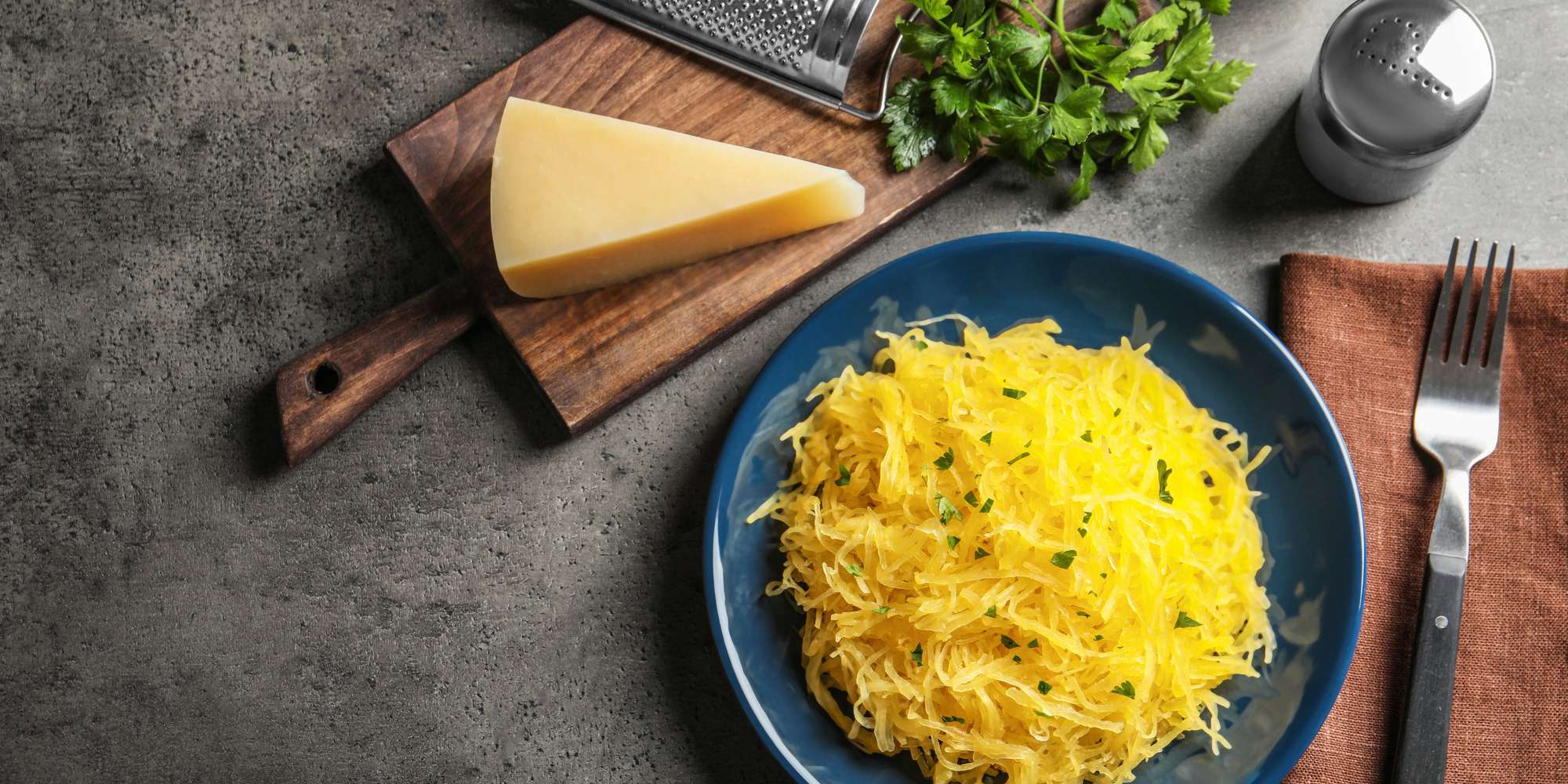 Flavourful pasta and noodle alternative.
Ingredients
| | |
| --- | --- |
| 1 squash | Spaghetti squash (cut in half; see notes) |
| 1 tbsp | Coconut oil (for frying) |
| 3 clove(s) | Garlic (minced) |
| 1 pinch | Salt (to taste) |
| 1/2 cup | Parsley, fresh |
Instructions
1. Preheat oven to 375F degrees.
2. Place the halves flat side down on a baking sheet and bake for 35-40 minutes. To know if it's cooked, try inserting a knife into the skin. It should go through easily. Overcooking will caramelize the spaghetti squash.
3. Let it cool down a bit before handling, or use oven mitts. Take a fork and scratch the spaghetti strands out. They go crosswise for the most part. If the strands don't come apart and you get hard clumps instead, the squash isn't cooked thoroughly. Place it in the oven another few minutes.
4. Heat some oil in a pan over medium heat. Fry the garlic for a minute or two, until it's really fragrant. Add the spaghetti and the salt. Toss around constantly to avoid turning the spaghetti into mush. A minute or two before it's cooked to your liking, add the parsley and continue to toss around.
5. Serve with your choice of protein for a full meal. Enjoy!
Notes:
Quick Tips:
To cut the spaghetti squash, put it down on the counter, take a sharp knife, and anchor it in the middle, at a 90 degree angle (to cut lengthwise). Pull the knife down so that it is parallel with the counter/table/cutting board. Repeat on the other side. If you can't get the knife down through the skin at the bottom, cut as much as you can, and then break the two halves apart.
---
Nutritional Highlights:
Spaghetti squash
High in antioxidants, this wonderful pasta replacement helps in blood sugar and weight management as well as supporting healthy digestion.
Nutrition Facts
Per Portion
Calories from saturated fat
32
Polyunsaturated Fat
1.2 g
Monounsaturated Fat
0.4 g
Dietary servings
Per Portion
Energy sources