Glowing Spiced Lentil Soup
16
35
305
Ingredients
Minutes
Calories
Prep
Cook
Servings
15 min
20 min

7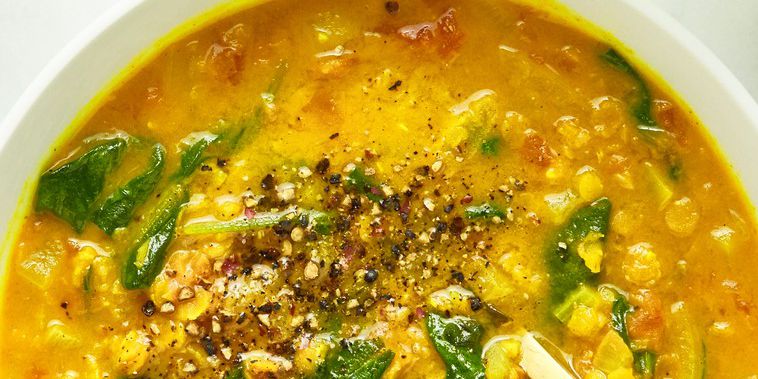 This soup is so quick and easy because there aren't many vegetables to chop
Ingredients
| | |
| --- | --- |
| 1 1/2 tbsp | Extra virgin olive oil (extra-virgin) |
| 2 cup | White onion ((280 grams) diced; (1 medium/large)) |
| 2 clove(s) | Garlic (minced) |
| 2 tsp | Turmeric, powder |
| 1 1/2 tsp | Cumin (ground) |
| 1/2 tsp | Cinnamon |
| 1/4 tsp | Cardamom, ground |
| 1 can(s) (16 oz) | Diced tomatoes, canned ((398 mL); with juices) |
| 1 can(s) (15oz) | Coconut milk ((398 mL) full-fat) |
| 3/4 cup | Red lentils, raw ((140 grams) uncooked, rinsed and drained) |
| 3 1/2 cup | Vegetable stock/broth ((875 mL) low-sodium) |
| 1/2 tsp | Sea salt (sea salt) |
| 1/2 tsp | Black pepper (Freshly ground; to taste) |
| 1/4 tsp | Cayenne pepper (to taste (for a kick of heat!)) |
| 140 gm | Spinach ((5-ounce) package) |
| 2 tsp | Lime juice (fresh) (fresh; or more to taste) |
Instructions
In a large pot, add the oil, onion, and garlic. Add a pinch of salt, stir, and sauté over medium heat for 4 to 5 minutes until the onion softens.
Stir in the turmeric, cumin, cinnamon, and cardamom until combined. Continue cooking for about 1 minute, until fragrant.
Add the diced tomatoes (with juices), entire can of coconut milk, red lentils, broth, salt, and plenty of pepper. Add red pepper flakes or cayenne, if desired, to taste. Stir to combine. Increase heat to high and bring to a low boil.
Once it boils, reduce the heat to medium-high, and simmer, uncovered, for about 18 to 22 minutes, until the lentils are fluffy and tender.
Turn off the heat and stir in the spinach until wilted. Add the lime juice to taste. Taste and add more salt and pepper, if desired. Ladle into bowls and serve with toasted bread and lime wedges.
Notes:
Lentils
are a good source of protein for vegetarians and vegans and are high in fiber which help to promote bowel regularity!
Nutrition Facts
Per Portion
Calories from saturated fat
125
Polyunsaturated Fat
3.1 g
Monounsaturated Fat
8.2 g
Total Carbohydrate
27.8 g
Dietary servings
Per Portion
| | |
| --- | --- |
| Meat Alternative | 0.4 |
| Vegetables | 2.3 |
Energy sources