Gluten Free Crepes
9
15
256
Ingredients
Minutes
Calories
Prep
Cook
Servings
5 min
10 min

4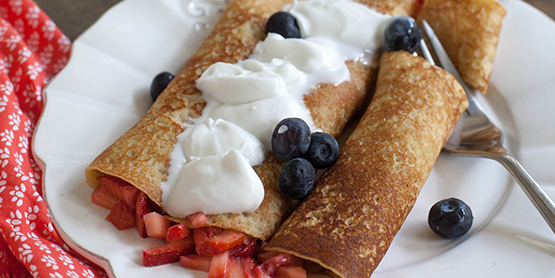 If you love crepes, this recipe is easy to make and definitely delicious!
Ingredients
| | |
| --- | --- |
| 1 tbsp | Coconut oil (for cooking) |
| 2 medium egg | Egg |
| 1 tsp | Vanilla extract, pure |
| 1/2 cup | Almond milk, unsweetened |
| 1/2 cup | Water |
| 1/4 tsp | Salt |
| 1 tbsp | Agave nectar (syrup) |
| 1 cup | Gluten free flour |
| 2 tbsp | Coconut oil (melted) |
Instructions
1. Heat a large skillet over medium heat on your stovetop. Add 2 tbsps of coconut oil into the warm skillet and let warm up for 15 seconds.
2. Meanwhile, in a medium mixing bowl, whisk together the eggs, vanilla, almond milk, water, salt and agave nectar until thoroughly combined and eggs are bubbly.

3. Slowly add in the gluten-free flour and whisk to combine, ensuring there are no chunks of flour leftover.

4. Take the oil from the skillet and pour it into your crepe batter, slowly whisking to combine. Mix until smooth.

5. Add 1 tbsp of coconut oil to the large skillet and let it coat the entire bottom of the skillet.

6. Pour or scoop the batter onto the griddle, using approximately 1/3 cup for each crepe.

7. As soon as you've poured the batter, tilt and swirl the pan in a circular motion so that the batter coats the surface evenly.

8. Cook the crepe for about 2 minutes, until the bottom is light brown (about 1-2 minutes), flip the crepe with a spatula and cook the other side for another 1-2 minutes. Repeat this process with remaining batter and top with toppings of choice. Serve immediately.
Notes:
Quick Tips:
If you are okay with regular flour, opt-for a sprouted, whole grain flour.
Topping options: coconut whipped cream, fresh sliced berries, chocolate sauce, nut butters, chopped nuts etc.
Nutrition Facts
Per Portion
Calories from saturated fat
87
Polyunsaturated Fat
0.6 g
Monounsaturated Fat
1.8 g
Total Carbohydrate
29.1 g
Dietary servings
Per Portion
| | |
| --- | --- |
| Grain | 1.5 |
| Meat Alternative | 0.3 |
| Milk Alternative | 0.1 |
Energy sources