Golden Milk Oatmeal with Pepita Brittle
13
20
466
Ingredients
Minutes
Calories
Prep
Cook
Servings
5 min
15 min

4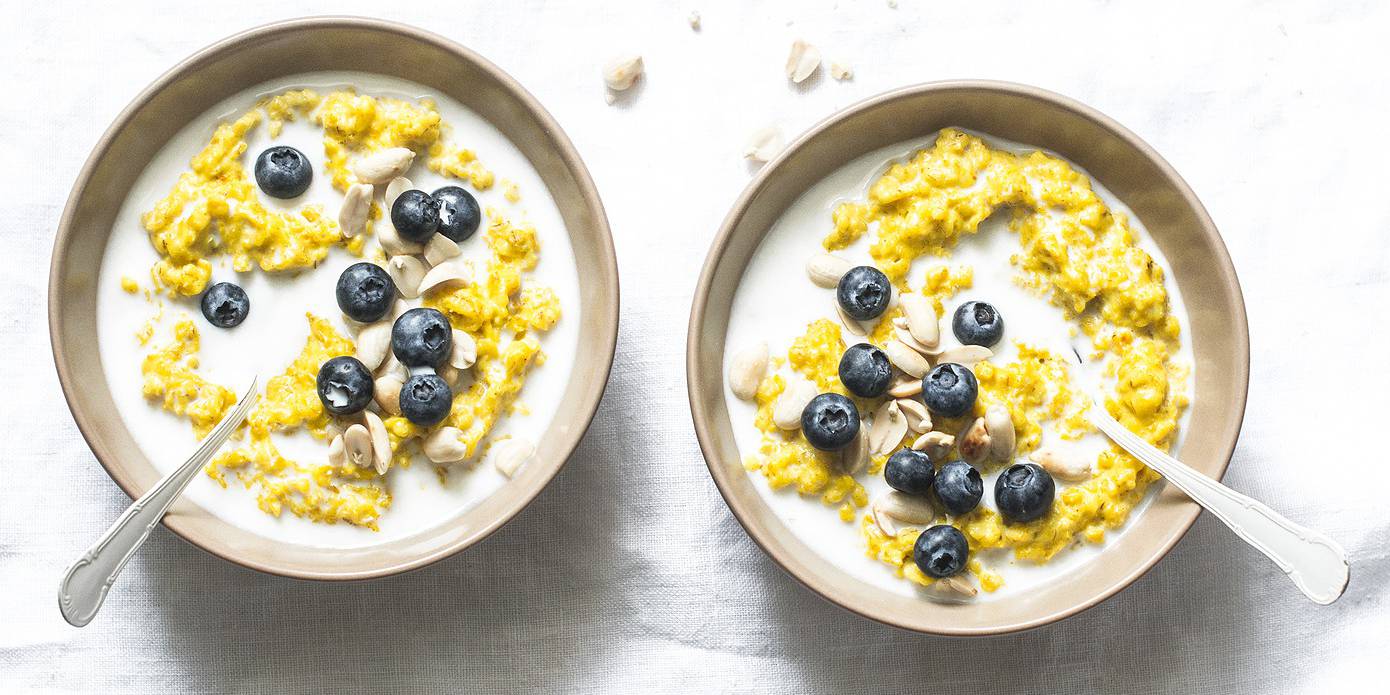 This easy vegan oatmeal recipe is made with turmeric-rich golden milk, which is deeply rooted in Ayurvedic medicine for its anti-inflammatory healing power!
Ingredients
| | |
| --- | --- |
| 1/2 cup | Pumpkin seeds (pepitas) (brittle - pepitas) |
| 1/2 cup | Pistachio nuts (brittle) |
| 1 tbsp | Chia seeds (brittle) |
| 1 tbsp | Sesame seeds (brittle) |
| 2 tbsp | Maple syrup, pure (brittle) |
| 1 tsp | Coconut oil (melted; brittle) |
| 1 dash | Sea salt (brittle) |
| 1 can (13.5oz) | Coconut milk, reduced fat (oatmeal) |
| 1 tbsp | Maple syrup, pure (oatmeal - can use honey) |
| 1 1/2 tsp | Turmeric, ground (oatmeal) |
| 1/2 tsp | Cinnamon (oatmeal) |
| 1 dash | Ginger, ground (oatmeal) |
| 1 cup | Rolled oats- Gluten Free (oatmeal) |
Instructions
For the Brittle:
Preheat the broiler on low and line a baking sheet with parchment paper.
In a medium-sized mixing bowl, combine the pumpkin seeds (pepitas), pistachios, chia seeds, sesame seeds, maple syrup, melted coconut oil, and sea salt. Toss until evenly coated.
Spread the mixture on the baking sheet and roast under the broiler until toasted, about 4 minutes, stirring once halfway through to prevent uneven cooking.
Allow the seeds to rest on the baking sheet until cooled slightly. Toss to make sure the remaining syrup adheres, then allow to cool completely. Break apart into chunks and store in an airtight container until you're ready to make the oatmeal.
For the Oatmeal:
In a medium saucepan, combine the coconut milk, maple syrup or honey, turmeric, cinnamon, and ground ginger. Bring to a simmer, whisking until everything is well-combined. Be careful the pot doesn't boil over - as soon as bubbles form, add the oats and reduce the heat to medium-low. Cook, stirring occasionally until the oats are tender and the liquid is absorbed; about 10 to 15 minutes.
Ladle the oatmeal into bowls and top with the brittle.
Drizzle with extra maple syrup for more sweetness, if desired, and serve with your favorite fruit.
Notes:
If using steel-cut oats or quick cooking oats, check the package instructions and increase or reduce the amount according to their pre-set ratios.
The brittle can be prepared up to two weeks in advance and stored in an airtight container.
The oatmeal can be made at the beginning of the week and reheated in the microwave in individual bowls. If making the oats in advance, add ½ cup water and cook just until the oats are tender.
Nutrition Facts
Per Portion
Calories from saturated fat
95
Polyunsaturated Fat
5.2 g
Monounsaturated Fat
6.5 g
Dietary servings
Per Portion
| | |
| --- | --- |
| Grain | 1.9 |
| Meat Alternative | 0.9 |
Energy sources