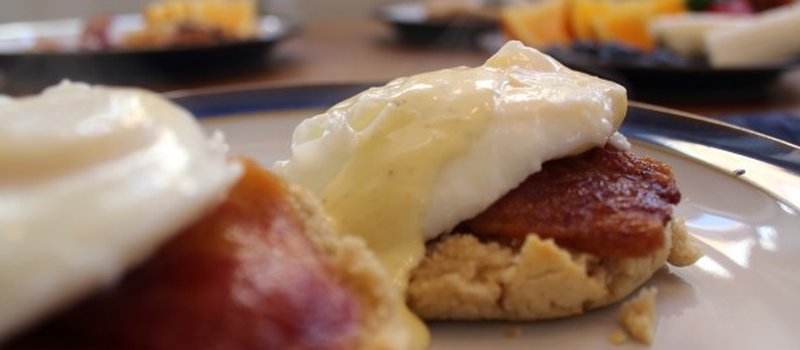 Grain-Free Breakfast Sandwiches
Prep
Cook
Ready in
Servings
30 min
25 min
55 min

6
Ingredients
| | |
| --- | --- |
| 3 1/2 cup | Almond flour/meal, Bob's Red Mill (for biscuit) |
| 1/3 cup | Coconut flour (for biscuit) |
| 2 large egg | Egg (for biscuit) |
| 1/4 cup | Honey (for biscuit) |
| 1/4 cup | Coconut water (liquid from coconut) (for biscuit) |
| 2 tsp | Apple cider vinegar (for biscuit) |
| 1 tsp | Baking soda (for biscuit) |
| 1/2 tsp | Sea salt (for biscuit) |
| 1/3 cup | Butter, unsalted (softened, for biscuit) |
| 1 1/3 kg | Beef, ground, extra lean (for sausage) |
| 1 medium | Yellow onion (finely chopped, for sausage) |
| 1/2 tsp | Cinnamon (for sausage) |
| 1/2 tsp | Allspice, ground (for sausage) |
| 1/2 tsp | Nutmeg, ground (for sausage) |
| 1 tsp | Cayenne pepper (for sausage) |
| 1 tsp, ground | Basil, dried (for sausage) |
| 1 tsp | Cumin (for sausage) |
| 1 tsp | Coriander, ground (for sausage) |
| 1 tsp | Black pepper (for sausage) |
| 1 tsp | Oregano, dried (for sausage) |
| 2 tsp | Sea salt (for sausage) |
| 2 large egg | Egg (for sausage) |
| 2 large egg | Egg yolk (for Hollandaise sauce) |
| 1 whole lemon(s) | Lemon juice (for Hollandaise sauce) |
| 1 dash | Salt and pepper (for Hollandaise sauce) |
| 1/2 cup | Butter, unsalted (melted, for Hollandaise sauce) |
| 6 large egg | Egg (poached) |
Instructions
1. Biscuits: Preheat oven to 350* F. Line a baking sheet with parchment paper. Mix the almond flour, coconut flour, eggs, honey, coconut water, apple cinder vinegar, baking soda, sea salt, and shortening in a bowl using a fork. Divide dough into 8 balls, and gently use your hands to form round biscuit shapes, dusting your hands with coconut flour if needed. Bake on the parchment-lined baking sheet, an inch or two apart, for 20 minutes.
2. Beef Sausage:
Mix all ingredients together with a fork or a stand mixer until spices are thoroughly mixed into the meat. Shape into patties and fry in coconut oil on med to med-high until no longer pink in the center. If you're pressed for time, only cook the amount you need today and form the rest into patties to stick in the freezer for later use.
If you have more time today and would like to save time later, cook all the patties and freeze.
3. Hollandaise Sauce:
Put the egg yolk in the blender, turn it on medium, and slowly pour in the melted butter- taking maybe a minute to pour in the half cup. Then add the salt, pepper, and lemon juice. It will thicken as it cools.

4. Poached Eggs: Fill a skillet half full with filtered water and bring to a simmer over medium-high heat. Crack 6 eggs into a bowl and then slide them gently into the pot or skillet with the water. Cover. Cook until the whites are set but the yolks are still runny; 3-5 minutes. Remove with a slotted spoon.

Assemble, serve and enjoy!
Nutrition Facts
Per Portion
Calories from saturated fat
285
Polyunsaturated Fat
3.2 g
Monounsaturated Fat
18.7 g
Dietary servings
Per Portion
| | |
| --- | --- |
| Meat | 2.5 |
| Meat Alternative | 3.3 |
| Vegetables | 0.2 |
Energy sources
Notes:
Eggs
are a great source of protein and important B vitamins!
Beef
is a great source of protein and B12!
About
Contact Us
Meal Garden, 326 1/2 Bloor Street West, Unit 4, Toronto, Ontario, M5S 1W5, Canada