Baked Salmon with Dijon Mustard Sauce
9
25
337
Ingredients
Minutes
Calories
Prep
Cook
Servings
5 min
20 min

1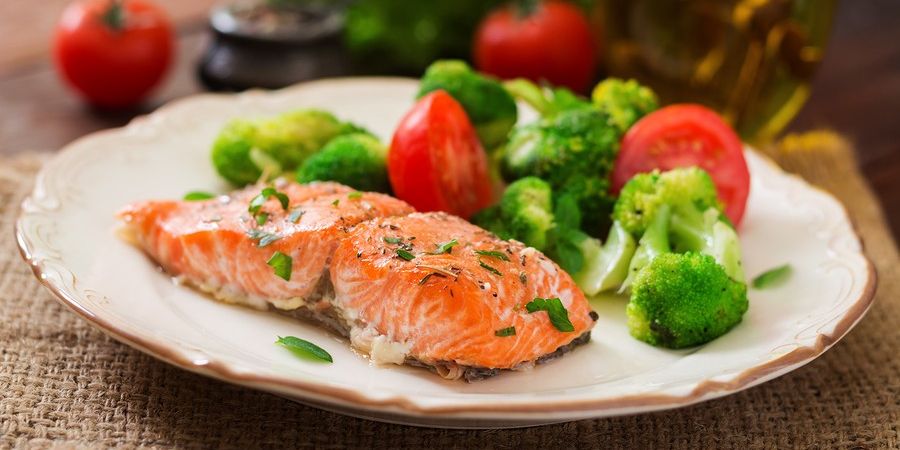 An anti-inflammatory omega-3 rich dinner perfect for balanced hormones and heart health.
Ingredients
| | |
| --- | --- |
| 142 gm | Atlantic salmon,wild, boneless |
| 1 lemon wedge | Lemon |
| 1/4 tsp | Salt and pepper (or to taste) |
| 1 cup | Broccoli florets |
| 1 tbsp | Dijon mustard (for sauce) |
| 1 tsp | Extra virgin olive oil (for sauce) |
| 1 tbsp | Lemon juice |
| 1 tbsp | Pine nuts, dried (for sauce) |
| 1 tsp | Dill, dried (for sauce) |
Instructions
1. Preheat oven to 400F degrees. Line a baking sheet with parchment paper.
2. Squeeze lemon wedge over salmon and season with salt and pepper. Place on baking sheet and bake for 12-15 minutes or until cooked through (see notes).
3. In the meantime steam broccoli by placing about 1 inch of water in a pot with steam basket on medium-high heat. When the water boils, add broccoli, cover, lower heat to medium-low, and steam for 4-5 minutes. If you don't have a steamer, simply place broccoli inside the pot with water.
4. While salmon and broccoli are cooking prep the sauce. Mix mustard, olive oil, lemon, pine nuts and dill in a bowl.
5. Serve salmon with steamed broccoli and pour as much of the sauce as you like.
Notes:
Quick Tips:
Safety
Never eat seafood that is raw, or not cooked through. Internal temperature of fish should be 158F or 70C degrees and for shellfish 165F or 74C degrees.
---
Nutritional Highlights:
Salmon
High in omega-3s important for heart, brain and hormone health.
Broccoli
Contains powerful antioxidants that help fight free radicals and reduce inflammation. High in fiber to aid in blood sugar management. Contains many vitamins and minerals including vitamins C, K, folate and selenium.
Nutrition Facts
Per Portion
Calories from saturated fat
25.4
Polyunsaturated Fat
6.3 g
Monounsaturated Fat
8.5 g
Dietary servings
Per Portion
| | |
| --- | --- |
| Fruit | 0.2 |
| Meat | 1.6 |
| Meat Alternative | 0.2 |
| Vegetables | 0.9 |
Energy sources