Hearty Chicken Noodle Soup
14
50
352
Ingredients
Minutes
Calories
Prep
Cook
Servings
30 min
20 min

8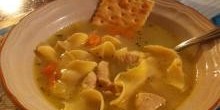 Ingredients
| | |
| --- | --- |
| 3 tbsp | Butter, unsalted |
| 3 tbsp | Olive oil |
| 1 cup chopped | Carrots |
| 1 cup diced | Celery |
| 1 cup chopped | Yellow onion |
| 681 gm | Chicken breast, boneless, skinless (cut into small pieces) |
| 1 tsp | Garlic (minced) |
| 1/2 tsp | Sea salt (or to taste) |
| 1/4 tsp, leaves | Basil, dried |
| 947 ml | Chicken broth (stock), low sodium |
| 1/4 cup | All-purpose white flour |
| 2 cup | Water |
| 1/4 tsp | Poultry seasoning, Trader's Choice |
| 1 bag (12oz) | No Yolks extra broad noodles |
Instructions
1. Put the first 5 ingredients into a dutch oven. Saute 8-10 minutes on medium high, or til veggies are beginning to get tender. In the meantime, cook the noodles according to the package directions.

2. Add chicken pieces and saute, stirring occasionally, til no longer pink, about 8 minutes.

3. Put the flour and 1/2 cup of the chicken broth into a cup that has a lid and shake to combine. (Or, if you'd prefer, you can whisk it together in a bowl.) Pour into the chicken-veggie mixture and add the remaining chicken broth. Add the salt and spices. Continue cooking til thickened.

4. Add cooked noodles and the 2 cups water. Continue cooking til heated through. If the soup is thicker than you like, just add water til you get the consistency you want.

**Recipe and Photos By Renee's Gourmets**
©Renee Norris
All rights reserved.
Notes:
*No Yolks is the brand name for egg noodles made only with the egg whites.
Nutrition Facts
Per Portion
Calories from saturated fat
36
Polyunsaturated Fat
1.1 g
Monounsaturated Fat
5.3 g
Dietary servings
Per Portion
| | |
| --- | --- |
| Grain | 0.2 |
| Meat | 0.9 |
| Vegetables | 0.9 |
Energy sources