Citrus Trout Salad
13
30
421
Ingredients
Minutes
Calories
Prep
Cook
Servings
15 min
15 min

4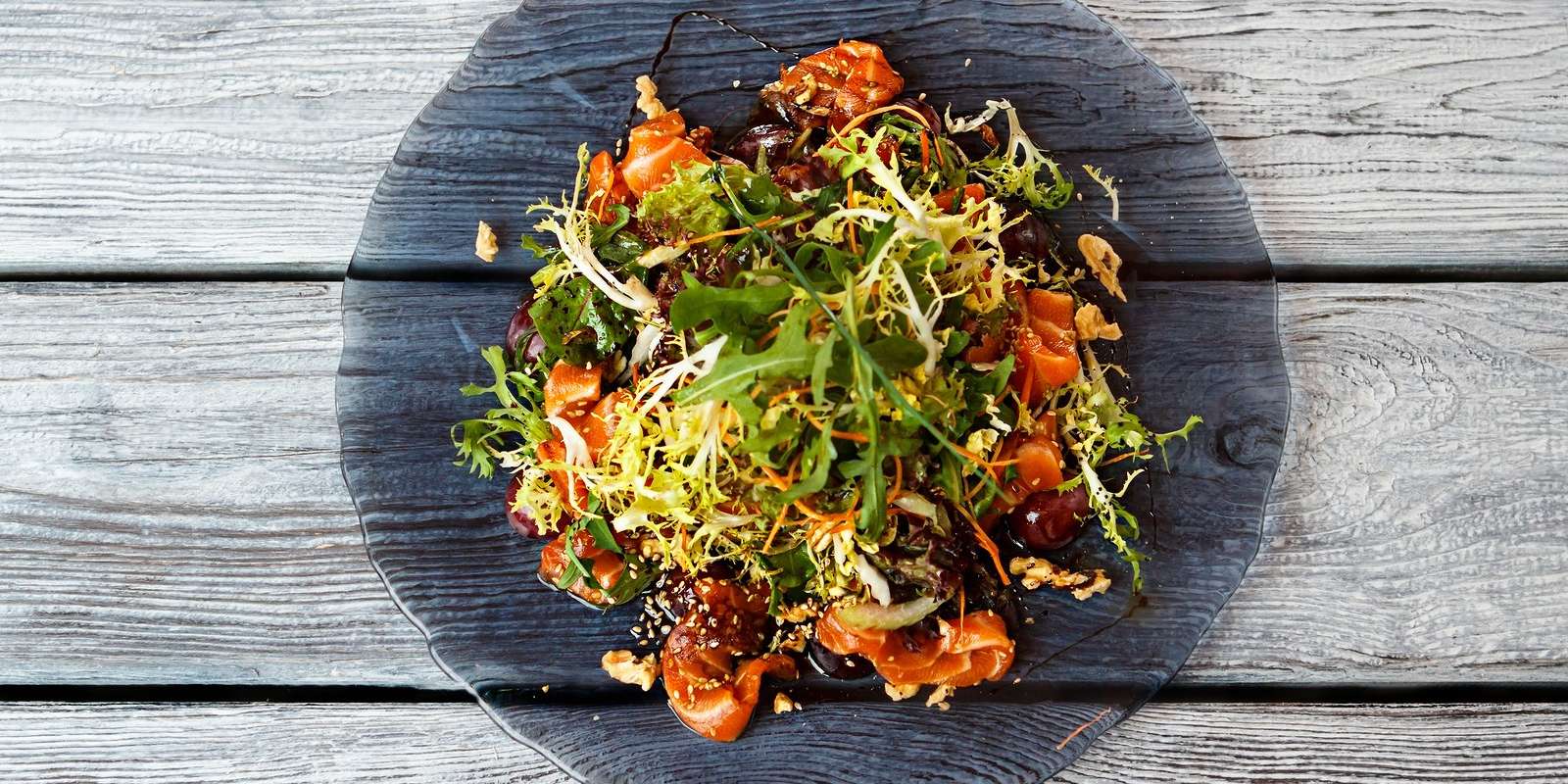 Nutrient-dense salad with ingredients to help support the liver.
Ingredients
| | |
| --- | --- |
| 1 head | Broccoli, raw (chopped into bite-sized pieces) |
| 1/2 medium head | Cauliflower (chopped into bite-sized pieces) |
| 1 large | Carrots (shredded) |
| 1 medium | Pear (or apple, grated) |
| 1/4 cup | Red onion (minced) |
| 1 bunch | Cilantro (coriander) (minced) |
| 1/2 bunch | Parsley, fresh (minced) |
| 681 gm | Trout, rainbow (cooked, or chicken, eggs or protein of choice) |
| 2 from 2 lemons | Lemon juice (for dressing) |
| 1/4 cup | Apple cider vinegar (for dressing; omit if have acid reflux) |
| 1/4 cup | Extra virgin olive oil (for dressing) |
| 1 tsp | Sea salt (for dressing) |
| 1/2 tsp | Black pepper (for dressing) |
Instructions
1. Wash and prep all veggies. Chop broccoli and cauliflower (see notes), shred carrots, grate pear or apple, mince onion, cilantro and parsley.
2. Add to large bowl and top with trout (or protein of choice).
3. To make the dressing, add the lemon juice, apple cider vinegar, olive oil, sea salt, and black pepper to a container with a lid. Shake vigorously until well blended. Taste and adjust seasonings to your preference. Allow the dressing to sit for at least 15 minutes before dressing your salad.
4. Pour the dressing over the bowl with all the ingredients. Add enough dressing to coat the salad, but not drown it. Mix thoroughly. Add any of the suggested toppings if desired (see notes).
Enjoy!
Notes:
Quick Tips:
It is important to chop your broccoli and cauliflower into small pieces for easier digestion. You can also blanch them in boiling water for 1 minute if raw broccoli makes you feel bloated or gassy. Try pulsing it in a food processor, or use a sharp knife to chop it down to bite-sized pieces.
Salad topping ideas
Diced avocado, dried cranberries or currants, sunflower seeds, sprouts of choice.
Nutrition Facts
Per Portion
Calories from saturated fat
28.8
Polyunsaturated Fat
3.6 g
Monounsaturated Fat
11.9 g
Total Carbohydrate
20.8 g
Dietary servings
Per Portion
| | |
| --- | --- |
| Fruit | 0.5 |
| Meat | 1.9 |
| Vegetables | 3.5 |
Energy sources