How To Make The Perfect Steak
4
40
358
Ingredients
Minutes
Calories
Prep
Cook
Servings
10 min
30 min

4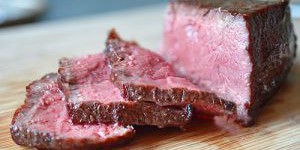 By following this technique, even novice cooks can whip up fool-proof restaurant-quality seared steaks at home. Yes, the perfect steak!
Ingredients
| | |
| --- | --- |
| 908 gm | New York striploin, steak (2 steaks 1 1/2 to 1 3/4 inches thick; boneless; trimmed) |
| 1 pinch | Kosher salt |
| 1 dash | Black pepper (freshly ground) |
| 1 tbsp | Ghee |
Instructions
Heat the oven to 275˚F with the rack in the middle position.
Pat your steaks dry with paper towels and trim off the excess fat and silverskin if your butcher hasn't already done it for you. Fat adds flavor, but too much will cause tons of splatter when you sear the steaks.
Cut each of your steaks in half vertically so that you have four even portions.
Combine some salt and pepper in a bowl and sprinkle it all over the surface of the steak.
Place the steaks on a wire rack set in a rimmed baking sheet.
Yeah, we all know about testing the doneness of steaks by poking at the heel of your hand or even your FACE, but these methods are just not reliable enough for me. (After all, I have skinny hands but a big fat face, as pointed out by some online commenters. And my mother. All out of love, I'm sure.)
The only way to ensure properly cooked steaks is to verify the temperature with a meat thermometer. I'm kind of compulsive about this, so I use an in-oven thermometer that monitors the meat's temperature while it's cooking—and then I double-check at the end with a Thermapen.
If you're using an in-oven thermometer, stab the center of a steak with the probe, and stick the tray in the oven. (Just so there's no confusion: the display unit stays outside of the oven. No one wants to clean out hunks of melted plastic from the oven.)
Cook until the meat registers 90˚F to 95˚F (for rare to medium-rare), about 20 to 25 minutes.
Prefer your steaks medium? Then take them out when the temperature reaches 100˚F to 105˚F (about 25 to 30 minutes). The folks at America's Test Kitchen didn't give instructions for medium well or well done 'cause we're making PERFECT steaks, remember?
Brace yourselves: when you first remove the steaks from the oven, they'll look unappetizing.
But don't worry. They'll be camera-ready in a few minutes.
Heat a 12-inch cast iron skillet over high heat. Once the pan is super hot, swirl in the ghee and place the steaks in the skillet.
Sear the steaks on the top and bottom until evenly browned and crusty, about 2 minutes on each side. Don't fiddle with them too much.
Transfer the steaks to a clean wire rack, and reduce heat to medium.
Using a pair of tongs, grab two steaks side-by-side, and sear the edges for about 20 seconds each.
Transfer the steaks to a wire rack, and tent loosely with a piece of foil.
Sear the edges of the remaining two steaks. When they're done, rest the meat for at least 10 minutes before you slice into them.
If you carefully followed all the instructions, you'll be richly rewarded with tender, flavorful, perfectly-cooked steak.
Nutrition Facts
Per Portion
Calories from saturated fat
74
Polyunsaturated Fat
0.7 g
Monounsaturated Fat
8.0 g
Dietary servings
Per Portion
Energy sources