Instant Pot Autumn Mash
10
20
148
Ingredients
Minutes
Calories
Prep
Cook
Servings
10 min
10 min

8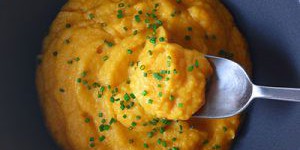 One of my all-time favorite Thanksgiving side dishes is Roasted Garlic Autumn Root Vegetable Mash. Why? 'Cause it's a feast for both the eyes and tastebuds.
Ingredients
| | |
| --- | --- |
| 1 bulb | Garlic (roasted; you can also "roast"; garlic in an Instant Pot) |
| 4 tbsp | Ghee |
| 1/2 medium | White onion (coarsely chopped) |
| 341 gm | Parsnip (about 5 small parsnips, peeled and coarsely chopped) |
| 454 gm | Carrots (about 2 large; peeled and coarsely chopped slightly smaller than parsnips) |
| 681 gm | Cauliflower (1 small; of cauliflower, coarsely chopped) |
| 1 pinch | Kosher salt |
| 1/2 cup | Bone broth, Organic (or chicken stock) |
| 1 dash | Black pepper (freshly ground) |
| 1/4 cup | Chives (minced; optional) |
Instructions
Start by roasting a head of garlic. Elise Bauer's recipe is my favorite for its simplicity and consistently perfect results, though I modify it slightly by cooking the garlic in a covered mini cocotte with whatever cooking fat I have on hand (e.g. melted ghee, avocado oil, etc.). Rushed for time? "Roast" the garlic in an Instant Pot by following this recipe!
When you're ready to cook the mash, press the "Sauté" button on your Instant Pot and when the metal insert is hot, add three tablespoons of ghee. Toss in the onions and cook until softened, about 2-3 minutes.
Add the chopped parsnips, carrots, and cauliflower into the pot, and squeeze in the roasted garlic bulbs. Sprinkle on some salt.
Pour the broth into the metal insert, and give everything a good stir. Cancel the "Sauté" function.
Lock on the lid of the Instant Pot with the valve in the sealed position and program it to cook under high pressure for 5 minutes.
When the Instant Pot beeps to let you know your veggies are done cooking, release the pressure manually.
Season to taste with salt and pepper, and stir in the remaining tablespoon of ghee. Purée the mixture with an immersion blender or blitz in a food processor until smooth.
Finally, plate it up, top with fresh chives and serve!
Nutrition Facts
Per Portion
Calories from saturated fat
34
Polyunsaturated Fat
0.3 g
Monounsaturated Fat
1.6 g
Total Carbohydrate
19.2 g
Dietary servings
Per Portion
Energy sources