Instant Pot Beets
6
20
91
Ingredients
Minutes
Calories
Prep
Cook
Servings
5 min
15 min

4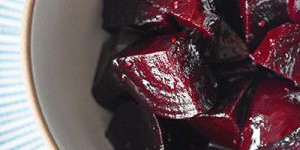 When you use a pressure cooker to steam beets in an Instant Pot, you can have fork-tender, finger-staining vegetables in 30 minutes, from start to finish!
Ingredients
| | |
| --- | --- |
| 6 beet(s) | Beets, raw (medium; about 2 inches in diameter) |
| 1 cup | Water |
| 1 pinch | Kosher salt (optional) |
| 1 dash | Black pepper (freshly ground; optional) |
| 1 tbsp | Balsamic vinegar (optional) |
| 1 tbsp | Extra virgin olive oil (optional) |
Instructions
Wash and trim the beets so that the stems are about ½-inch long and the roots are no more than about 2 inches long. (If you bought beets with the greens attached, reserve the leaves for a tasty stir-fry!)
Grab your Instant Pot (or other pressure cooker) and add 1 cup of water into the insert.
Place a steamer insert inside and arrange the beets in a single layer on top.
Lock the lid and make sure the valve on the lid is pointed at the "Sealing" position. Press the "Manual" button (or "Pressure Cook" if you have the new IP-DUO Plus60) and cook on high pressure for 15 minutes. (Size matters, people. If you have smaller beets, it might take just 10 minutes to cook. Larger beets, however, will take 20 to 30 minutes to cook.)
When the beets are finished cooking, turn off the Instant Pot and manually release the pressure by turning the valve on the lid towards "Venting."
Unlock the lid. Once the steam dissipates, use a sharp knife to poke the beets. If the knife pierces the flesh without too much resistance, they're done. If the beets still seem a little too hard, cook them under high pressure for 2 to 5 more minutes.
Once the beets have cooled, slice off the tops and slide the skins off. (Try this baking soda trick to get the beet stains off your hands.)
I love making quick pickles with my steamed beets like in this recipe. Simply slice up the beets into uniform pieces, season to taste with salt and pepper, and add a liberal splash of balsamic vinegar. Marinate the beets for at least 30 minutes, stirring once or twice, before adding a generous glug of extra virgin olive oil. (If I'm eating the beets later, I add the olive oil right before I serve it.)
You can keep the cooked beets in your fridge for up to a week.
Nutrition Facts
Per Portion
Calories from saturated fat
4.6
Polyunsaturated Fat
0.4 g
Monounsaturated Fat
2.5 g
Total Carbohydrate
12.5 g
Dietary servings
Per Portion
Energy sources