Instant Pot Cream of Mushroom Soup
14
60
325
Ingredients
Minutes
Calories
Prep
Cook
Servings
15 min
45 min

6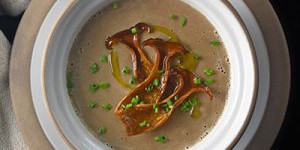 I love that I can start prepping this hearty, creamy soup in the morning, and blend it up when I get home from meetings, and schlepping the kids around town.
Ingredients
| | |
| --- | --- |
| 908 gm | Cremini (Italian) mushroom (thinly sliced) |
| 2 tbsp | Ghee (avocado oil; or olive oil) |
| 2 medium leek(s) | Leek (white and light green ends only; cleaned; trimmed; and thinly sliced) |
| 2 large shallot(s) | Shallots (diced) |
| 6 clove(s) | Garlic (minced) |
| 8 gm | Porcini mushroom, dried (dried; or mixed) |
| 1 pinch | Kosher salt (or Magic Mushroom Powder) |
| 4 cup | Chicken broth (stock), low sodium (or bone broth) |
| 2 sprig | Thyme, fresh |
| 3/4 cup | Coconut cream (or the solidified cream from a chilled can of full-fat coconut milk) |
| 1 tbsp | Lemon juice (freshly squeezed) |
| 1 dash | Black pepper (freshly ground) |
| 1 bunch | Chives (fresh; thinly sliced; optional garnish) |
| 3 tbsp | Extra virgin olive oil (optional garnish) |
Instructions
First things first: Make some mushroom chips. Yeah, I said they're optional, but you really should garnish this soup with Crispy Mushroom Chips. They're like crunchy umami "croutons!" So go follow this super-simple recipe and pop them in the oven.
Next, grab your sliced mushrooms. You can slice them by hand, but a food processor will save you lots of time (and possibly a few of your fingers).
Turn on the "Sauté" function on your Instant Pot. Once the metal insert is hot, add the ghee or your fat of choice. Toss in the mushrooms and cook, stirring occasionally, until all the liquid released from the mushrooms has evaporated. This will take about 12-15 minutes, and will help concentrate the mushroom flavor. In other words: don't skip this step.
Toss in the leeks and shallots and cook for about a minute.
Stir in the garlic cloves, dried mushrooms (no need to rehydrate 'em first!), and 1 teaspoon of my Magic Mushroom Powder. (No Magic Mushroom Powder on hand? Add 1 teaspoon Diamond Crystal brand kosher salt.)
Pour in 4 cups of chicken broth and stir in the fresh thyme sprigs.
Turn off the "Sauté" function by hitting "Cancel." Lock the lid on the Instant Pot, and program it to cook for 5 minutes under high pressure.
When the soup is done cooking, release the pressure manually, and fish out the two thyme twigs.
Now, you have two choices to cream-ify your soup:You can use an immersion blender—which will mean fewer things to wash, but you'll end up with a slightly chunkier soup. I'd recommend this option only if you're in a rush, feeling incredibly lazy, or have no one else you can sucker into doing the dishes for you.My strong preference is to use a high-speed blender to get the soup as smooth and creamy as possible. (But make sure you follow these instructions if you're using a countertop blender to prevent a super hot liquid explosion.)
I'm going to assume you've gotten the hint, and you're using a countertop blender. Ladle about half the soup into the blender container making sure you don't go above the halfway point. Secure the lid without the plastic middle piece (i.e., leaving the hole in the lid open) and place a clean kitchen towel on top.
Slowly increase the speed of the blender and blitz until smooth.
Transfer the rest of the unblended soup from the Instant Pot into a large measuring cup, and pour the blended soup back into the metal insert of the Instant Pot. Then, pour the unblended soup from the measuring cup into the blender and add the coconut cream.
Following the same blending instructions above, blitz the soup and cream together.
Stir together the blended halves of the soup in the Instant Pot insert.
Squeeze in the lemon juice and taste the soup for seasoning. Adjust as necessary with extra salt, Magic Mushroom Powder, black pepper, and/or additional lemon juice.
Ladle the soup into bowls, and top with Crispy Mushroom Chips, chopped chives, and a drizzle of olive oil if desired!
You can store the soup in the fridge for up to 4 days or freeze it for up to a few months. After you reheat the soup, you can blend it with an immersion blender to re-emulsify everything.
Nutrition Facts
Per Portion
Calories from saturated fat
33
Polyunsaturated Fat
1.1 g
Monounsaturated Fat
6.0 g
Total Carbohydrate
24.2 g
Dietary servings
Per Portion
Energy sources