Instant Pot (Pressure Cooker) Korean Short Ribs
11
55
688
Ingredients
Minutes
Calories
Prep
Cook
Servings
10 min
45 min

6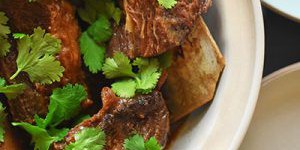 Behold: Instant Pot Korean Short Ribs! It turns out that my classic recipe for this deeply flavorful, Asian-inspired dish is even easier in an Instant Pot!
Ingredients
| | |
| --- | --- |
| 2 1/4 kg | Beef, short ribs, bone-in, lean (English-style; don't go above 5 pounds; it won't fit in a 6-quart pressure cooker) |
| 1 tbsp | Kosher salt (coarse; or use half the amount if you're using a fine grain salt) |
| 1/4 tsp | Black pepper (freshly ground) |
| 1/2 cup | Coconut aminos, Coconut Secret |
| 1 tbsp | Rice vinegar (or white balsamic vinegar, or coconut vinegar) |
| 2 tsp | Fish sauce |
| 1 small | Pear, asian (or Fuji apple; peeled; cored; and chopped coarsely) |
| 6 clove(s) | Garlic (peeled and roughly chopped) |
| 3 green onion (stem) | Green onion, scallion, ramp (roughly chopped) |
| 1 piece, 2-inch | Ginger root (cut into 2 pieces) |
| 1/4 cup | Cilantro (coriander) (dmall handful; roughly chopped) |
Instructions
Pat the short ribs dry with a paper towel and sprinkle with salt and pepper. Use your hands to rub the salt and pepper all over the ribs.
Transfer the seasoned ribs to a 6-quart (or larger) pressure cooker, making sure all the ribs fit in the pot.
Add the coconut aminos, vinegar, fish sauce, pear or apple, garlic, scallions, and ginger in a high-speed blender or food processor. Blitz until smooth.
Pour the sauce over the short ribs in the pressure cooker, and stir everything around so the sauce reaches the bottom of the pot. If the sauce doesn't reach the bottom of the pot, the ribs might burn and you'll get an "ovHT" error message on the Instant Pot display. (Got the error message even though the sauce hit the bottom of the pot? Turn off your Instant Pot, and add ¼ cup broth or water. Then, restart the Instant Pot. That should clear the error.)
Shut and lock the lid, turn the valve at the top to "sealing," and program the Instant Pot to cook under high pressure for 45 minutes by pressing "Manual" or "Pressure Cook" and the "+" button until the number says "45."
Let the pressure release naturally. If the pressure hasn't dropped after 25 minutes, release it manually by turning the top valve to the "venting" position. Pop open the lid and check that the ribs are fork-tender. If they're not, cook 'em for another 5 to 10 minutes under high pressure.
Transfer the ribs to a plate or platter, and taste the liquid for seasoning. Adjust if necessary with additional salt and pepper. If desired, skim the fat off the top.
Spoon the sauce on top of the ribs, and garnish with cilantro before serving.
Nutrition Facts
Per Portion
Calories from saturated fat
148
Polyunsaturated Fat
1.5 g
Monounsaturated Fat
16.6 g
Dietary servings
Per Portion
| | |
| --- | --- |
| Fruit | 0.1 |
| Meat | 5.0 |
| Vegetables | 0.2 |
Energy sources