Kale and Cabbage Slaw
9
20
205
Ingredients
Minutes
Calories
Prep
Cook
Servings
20 min
0 min

5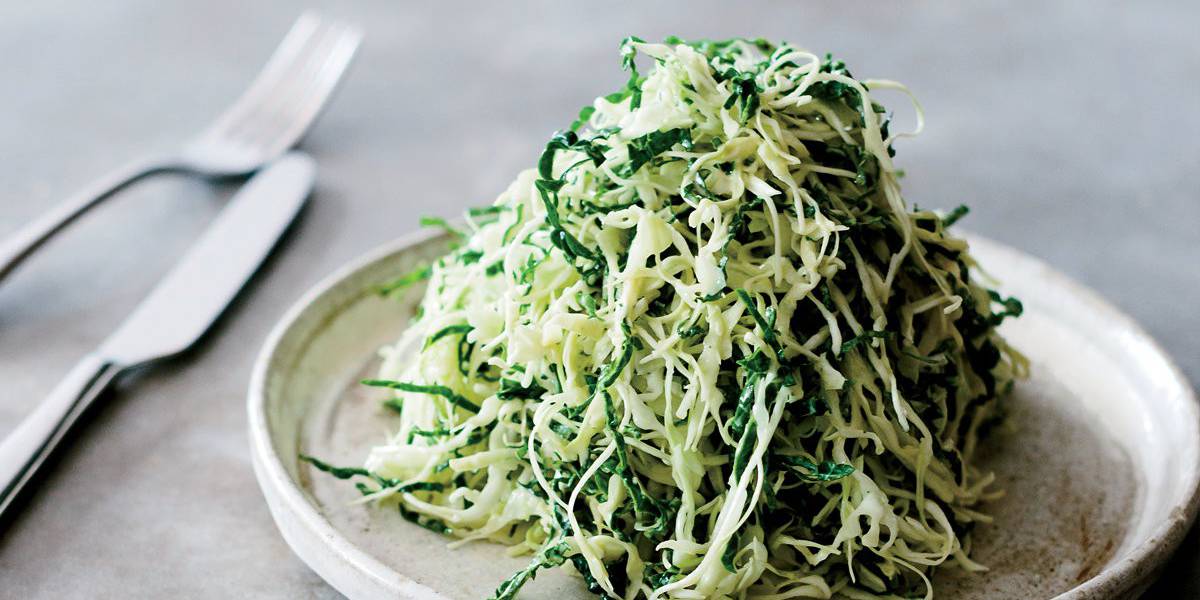 Anti-inflammatory slaw great as a side or main with your choice of protein.
Ingredients
| | |
| --- | --- |
| 5 leaves | Curly kale (Lacinato or whatever variety you prefer) |
| 1/2 medium head | Green cabbage (shredded; or red) |
| 2 medium | Carrots (julienned or match sticks; optional) |
| 1/3 cup | Extra virgin olive oil (for dressing) |
| 3 tbsp | White balsamic vinegar (for dressing) |
| 2 tsp | Dijon mustard, whole grain (for dressing) |
| 1 clove(s) | Garlic (minced, for dressing) |
| 1/4 tsp | Kosher salt (to taste, for dressing) |
| 1/4 tsp | Black pepper (to taste, for dressing) |
Instructions
1. Cut the middle rib out of each kale leaf. Roll the leaves up into a tight roll and slice them chiffonade-style into thin strips. Put the strips of kale in a large bowl. You should have about 2 to 3 cups.
2. Cut the core out of the cabbage half and thinly shred cabbage on a mandolin then use a knife to thinly chop it. Transfer the cabbage to the bowl with the kale.
3. Wash and peel the carrots. Julienne them into thin matchsticks (you can use a mandolin or a knife). Add to the kale and cabbage.
4. Mix dressing by combining olive oil, vinegar, mustard, garlic, salt and pepper in a closed jar and shaking to combine.
5. Drizzle half of the dressing over the salad, and toss to combine. Cover and refrigerate until serving time. Serve with the extra dressing on the side.
Notes:
Quick Tips:
You can substitute carrots with beets. Add walnuts, pecans, hemp hearts or sunflower seeds for a healthy fat boost.
Storage
This salad tastes great after it's had some time to absorb the dressing. You can store leftovers in an airtight container for up to 3 days.
---
Nutritional Highlights:
Cabbage
Packed with vitamins C & K as well as anti-inflammatory compounds, cabbage is one of the most powerful cruciferous veggies. It also contains insoluble fiber that helps to feed the good bacteria in the gut and keep your digestive system in check.
Nutrition Facts
Per Portion
Calories from saturated fat
18.7
Polyunsaturated Fat
1.7 g
Monounsaturated Fat
10.6 g
Total Carbohydrate
14.1 g
Dietary servings
Per Portion
Energy sources