Kale, Lentil & Roasted Beet Salad
14
40
659
Ingredients
Minutes
Calories
Prep
Cook
Servings
10 min
30 min

3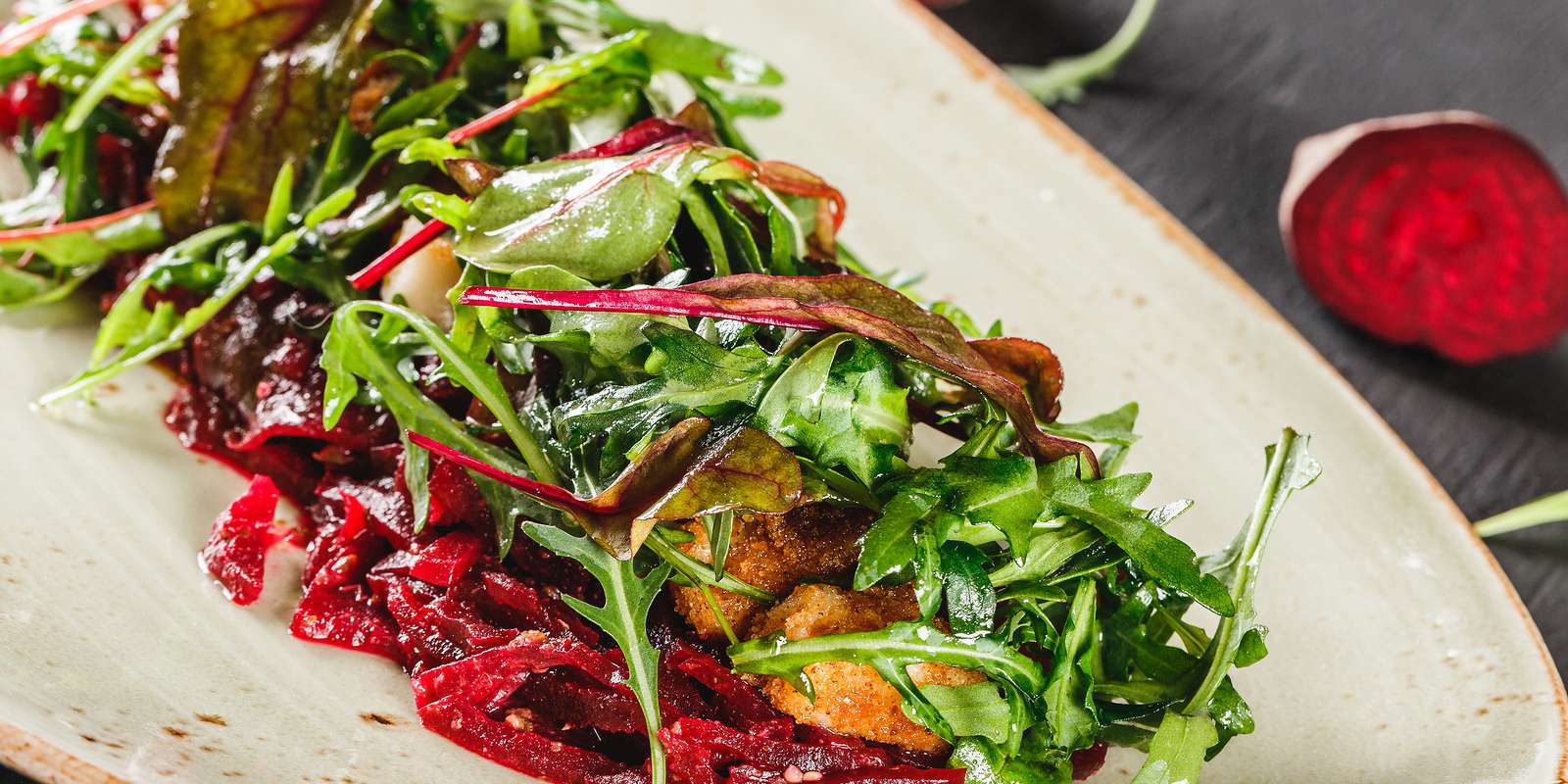 This hearty plant-based salad is loaded with protein, nutrients and flavour.
Ingredients
| | |
| --- | --- |
| 1/2 cup | Green lentils, raw (rinsed) |
| 1 cup | Water, filtered (or stock of choice) |
| 3 medium leek(s) | Leek (trimmed, sliced lengthwise and chopped) |
| 1 beet(s) | Beets, raw (quartered, rough skin removed) |
| 2 tbsp | Extra virgin olive oil |
| 1/4 tsp | Salt and pepper |
| 1/4 cup | Tahini (for dressing) |
| 1/2 whole lemon(s) | Lemon juice (for dressing) |
| 2 tbsp | Maple syrup (for dressing) |
| 4 tbsp | Extra virgin olive oil (for dressing) |
| 1/4 tsp | Salt and pepper (for dressing) |
| 4 cup | Kale (or baby spinach) |
| 1 tsp | Extra virgin olive oil |
| 2 tsp | Lemon juice |
Instructions
1. Preheat your oven to 400 degrees F and lightly grease a baking sheet with olive oil.
2. Thoroughly rinse your lentils under lukewarm water. Add lentils and water (or stock) to a small saucepan and bring to a rapid simmer over medium-high heat. Then reduce heat and simmer for 20-30 minutes uncovered, or until all liquid is absorbed. Set aside.
3. Meanwhile, prep your leeks and beets according to the ingredient instructions, then add them to the baking sheet and drizzle with olive oil and season with salt and pepper. Toss with tongs to coat, then bake in preheated oven for 15-20 minutes, or until fragrant and lightly browned. For crispier beets, remove leeks from your baking sheet at 15 minutes and continue roasting beets for an additional 10-15 minutes. Set aside.
4. While your veggies and lentils are cooking, prepare the dressing by adding your tahini, lemon juice, maple syrup, olive oil, salt and pepper to a mixing bowl and thoroughly whisk to combine. Taste and adjust seasonings as needed.
5. Take your kale, wash it and de-stem it by ripping the leaves away from the stem. Chop the leaves into bite-sized pieces.
6. Add kale to a large mixing bowl with 1 tsp of olive oil and the lemon juice and massage with your hands to soften. For all other greens, skip this step.
7. Add lentils, beets and leeks the mixing bowl that contains your kale and mix to combine. Then add your dressing and toss to coat. Leftovers keep for up to a few days, though best when fresh.
Notes:
Quick Tips:
For additional protein/crunch, add your favourite nut or seed (such as lightly salted sunflower seeds or roasted pecans).
Nutritional Highlights:
Beets
A hearty root vegetable that's known to help with improving blood circulation and athletic performance.
Lentils
Are a wonderful source of protein and fiber, and a great option for digestive health.
Nutrition Facts
Per Portion
Calories from saturated fat
52
Polyunsaturated Fat
8.5 g
Monounsaturated Fat
25.3 g
Dietary servings
Per Portion
| | |
| --- | --- |
| Meat Alternative | 1.5 |
| Vegetables | 4.1 |
Energy sources