Keto Asian Cabbage Stir-Fry
14
45
1139
Ingredients
Minutes
Calories
Prep
Cook
Servings
15 min
30 min

4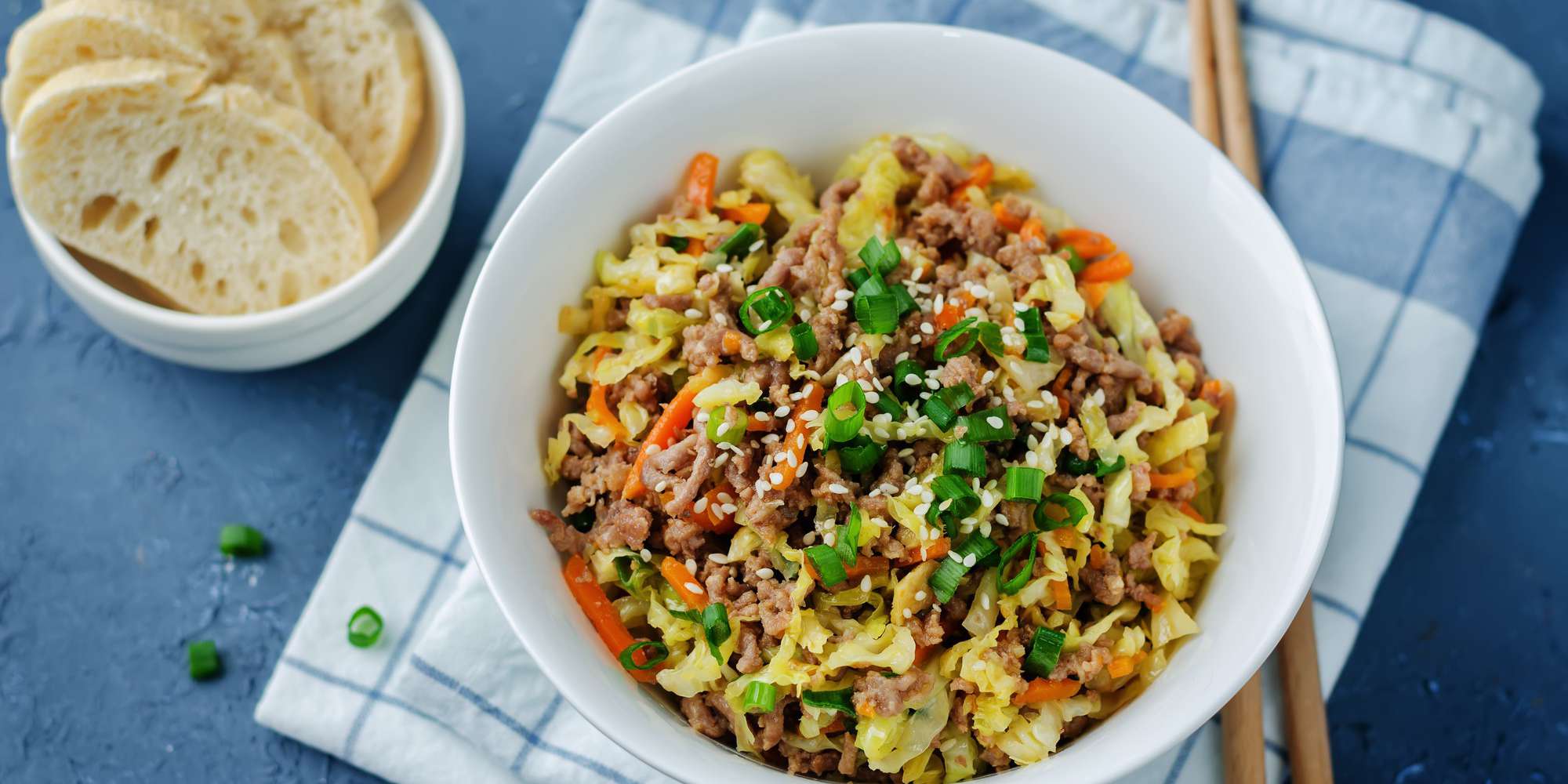 This <a href="https://www.dietdoctor.com/low-carb/keto">keto</a> stir-fry has a telling nickname: crack slaw. Yes, it really is that good! Easy to make.
Ingredients
| | |
| --- | --- |
| 758 gm | Green cabbage (lbs) |
| 142 gm | Butter, vegan |
| 604 gm | Beef, skirt steak |
| 1 tbsp | Sea salt |
| 1 tbsp | Onion powder |
| 1/4 tbsp | Black pepper (ground) |
| 1 tbsp | White wine vinegar |
| 2 clove(s) | Garlic |
| 3 tbsp | Green onion, scallion, ramp |
| 1 tbsp | Korean red chili flakes |
| 1 tbsp | Ginger, ground (fresh; finely chopped or grated) |
| 1 tbsp | Sesame oil |
| 1 cup | Mayonnaise |
| 1/2 tbsp | Wasabi paste |
Instructions
Shred the cabbage finely using a sharp knife or a food processor.
Fry the cabbage in 2–3 ounces (60–90 g) butter in a large frying or wok pan on medium-high heat, but don't let the cabbage turn brown. It takes a while for the cabbage to soften.
Add spices and vinegar. Stir and fry for a couple of minutes more. Put the cabbage in a bowl.
Melt the rest of the butter in the same frying pan. Add garlic, chili flakes and ginger and sauté for a few minutes.
Add ground meat and brown until the meat is thoroughly cooked and most of the juices have evaporated. Lower the heat a little.
Add scallions and cabbage to the meat. Stir until everything is hot. Add salt and pepper to taste, and top with the sesame oil before serving.
Mix together the wasabi mayonnaise by starting with a small amount of wasabi and adding more until the flavor is just right. Serve the stir-fry warm with a dollop of wasabi mayonnaise on top.
Notes:
Beef
is a great source of protein and vitamin B12!
Cabbage
is a great source of fiber which helps to promote healthy digestion!
Nutrition Facts
Per Portion
Calories from saturated fat
65
Polyunsaturated Fat
24.9 g
Monounsaturated Fat
12.2 g
Total Carbohydrate
18.0 g
Dietary servings
Per Portion
Energy sources