Keto Mackerel Salad
11
30
732
Ingredients
Minutes
Calories
Prep
Cook
Servings
10 min
20 min

2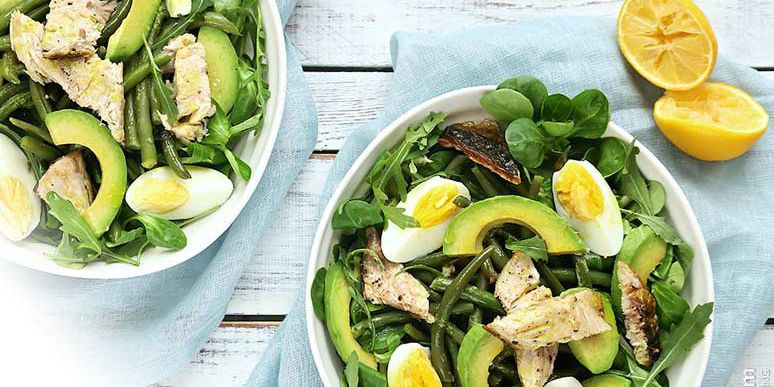 A hearty keto-friendly salad high in healthy fats.
Ingredients
| | |
| --- | --- |
| 2 medium egg | Egg (free-range or organic preferably) |
| 2 cup | Green/yellow string beans, raw |
| 2 fillet | Mackerel |
| 1/4 tsp | Salt and pepper |
| 1 tbsp | Olive oil |
| 1 avocado(s) | Avocado |
| 2 tbsp | Extra virgin olive oil (vinaigrette) |
| 1 tsp | Dijon mustard (vinaigrette) |
| 1/2 whole lemon(s) | Lemon juice (vinaigrette) |
| 1/4 tsp | Salt and pepper (vinaigrette, to taste) |
| 4 cup | Gourmet lettuce mix (or arugula) |
Instructions
1. Check notes for time-saving tips on eggs, mackerel and greens.
2. Hardboiled eggs: Fill a small saucepan with water up to three quarters. Add a good pinch of salt. This will prevent the eggs from cracking. Bring to a boil. Using a spoon or hand, dip each egg in and out of the boiling water - be careful not to get burnt. This will prevent the egg from cracking as the temperature change won't be so dramatic. To get the eggs hard-boiled, you need around 10 minutes (while eggs are boiling proceed with the remaining steps). When eggs are done, remove from the heat and place in a bowl filled with cold water. When the eggs are chilled, peel off the shells.
3. Green beans: Fill a small saucepan with water and season with salt. Add the green beans and bring to a boil. Cook until crisp-tender for 4-5 minutes. When done, take off the heat and pour the hot water away to prevent the beans from further cooking.
4. Mackerel: Heat a pan greased with 1 tbsp oil on medium-high heat. Make small diagonal slashes on the skin side of the mackerel - don't cut too deep. Season with salt and pepper from both sides. Once the pan is hot, add the mackerel fillets, skin side down, and cook until the skin is crispy and the meat opaque and cooked (see notes). When done, take off the heat and set aside to cool.
5. Vinaigrette: Whisk together the extra virgin olive oil, mustard, lemon juice and salt and pepper to taste. Wash and drain the greens in a salad spinner or just by pat drying using a paper towel.
6. To assemble: Place the greens in a serving bowl and top with the cooked green beans. Add quartered hardboiled eggs and mackerel fillet, and drizzle with the dressing. Enjoy!
Notes:
Quick Tips:
For quick prep, you can purchase ready-to-eat boiled eggs, pre-washed greens as well as use canned mackerel (low sodium in water or olive oil).
Safety
Cooking time will vary depending on the size and thickness of the fillets.
Never eat seafood that is raw, or not cooked through. Internal temperature of fish should be 158F or 70C degrees and for shellfish 165F or 74C degrees.
---
Nutritional Highlights:
Mackerel
Typically low in mercury and high in heart healthy omega-3s, vitamin D, selenium and magnesium.
Nutrition Facts
Per Portion
Calories from saturated fat
92
Polyunsaturated Fat
8.9 g
Total Carbohydrate
22.2 g
Dietary servings
Per Portion
| | |
| --- | --- |
| Meat | 1.3 |
| Meat Alternative | 0.5 |
| Vegetables | 4.8 |
Energy sources