Keto Pork Stir-Fry
14
15
560
Ingredients
Minutes
Calories
Prep
Cook
Servings
10 min
5 min

2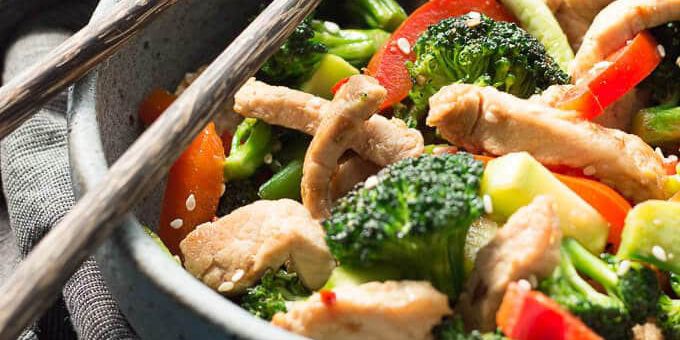 This easy pork stir-fry recipe is healthy and low-carb. It comes together so fast dinner will be on the table in 15 minutes. It's a great low carb stir fry!
Ingredients
| | |
| --- | --- |
| 350 gm | Pork, tenderloin (cut into thin strips) |
| 2 tbsp | Avocado oil (divided) |
| 1 tbsp minced | Ginger root |
| 1 tsp | Garlic (minced) |
| 341 gm | Broccoli florets |
| 1 medium pepper(s) | Red bell pepper (cut into strips) |
| 1 bunch | Green onion, scallion, ramp (cut into 2 inch pieces) |
| 2 tbsp | Soy sauce, tamari (or coconut aminos) |
| 1 tbsp | Sherry, dry (extra dry) |
| 1 tsp | Cornstarch (or arrowroot powder) |
| 1 tsp | Sesame oil |
| 1/4 tsp | Red pepper flakes (or more if you like it spicy) |
| 2 tbsp | Peanuts, roasted |
| 2 tsp | Sesame seeds |
Instructions
Preparation: Mince a clove of garlic. Cut a 1-inch piece of ginger and peel the thin skin with a spoon. Mince the ginger and add it to the garlic. Cut the pork loin into thin strips and mix with 1 tbsp. oil and the ginger and garlic.
Cut the red bell pepper into strips and place into the bottom of a medium bowl. Cut the green onions (scallions) into 2-inch pieces, including some of the green stems and add them to the bowl. Cut the broccoli florets into large bite-sized pieces, layering them on top.
Add the cornstarch to a small bowl and mix together. Stir in the Tamari soy sauce, dry sherry and sesame oil.
Method: Place the wok over high heat. It's ready when a drop of water skips across the surface. Add 1 tablespoon of oil and quickly tilt the wok to coat all surfaces. Pour out the remaining oil. Place the wok back onto the heat and begin adding the pork to the sides and bottom of the pan. Leave the pork undisturbed until it has cooked halfway through; the bottom half will turn white. Stir the pork and cook until it is almost cooked through. Remove from the pan to the serving bow.
Dump the bowl of vegetables into the wok with the broccoli in the bottom. Cover with a lid and cook for 1 minute. Stir the vegetables and add the pork and any juices back to the pan. Stir the pork and vegetables together. Stir the stir fry sauce and pour it over the pork and vegetables. Push the pork stir fry to the sides and let the sauce boil at the bottom of the wok, stirring occasionally for several seconds until the sauce thickens.
If you would like the sauce a little thicker, remove the stir-fried pork and vegetables to the serving bowl and let the sauce cook a little longer. Pour the sauce over the stir-fry when it reaches your desired level of thickness. Serve.
Notes:
Vegetables
provide key vitamins and minerals for proper health and maintenance of the body!
Nutrition Facts
Per Portion
Calories from saturated fat
49
Polyunsaturated Fat
6.5 g
Monounsaturated Fat
16.4 g
Total Carbohydrate
21.7 g
Dietary servings
Per Portion
| | |
| --- | --- |
| Meat | 1.9 |
| Meat Alternative | 0.3 |
| Vegetables | 3.8 |
Energy sources