Lamb Burgers with Cucumber Guacamole
17
30
672
Ingredients
Minutes
Calories
Prep
Cook
Servings
15 min
15 min

6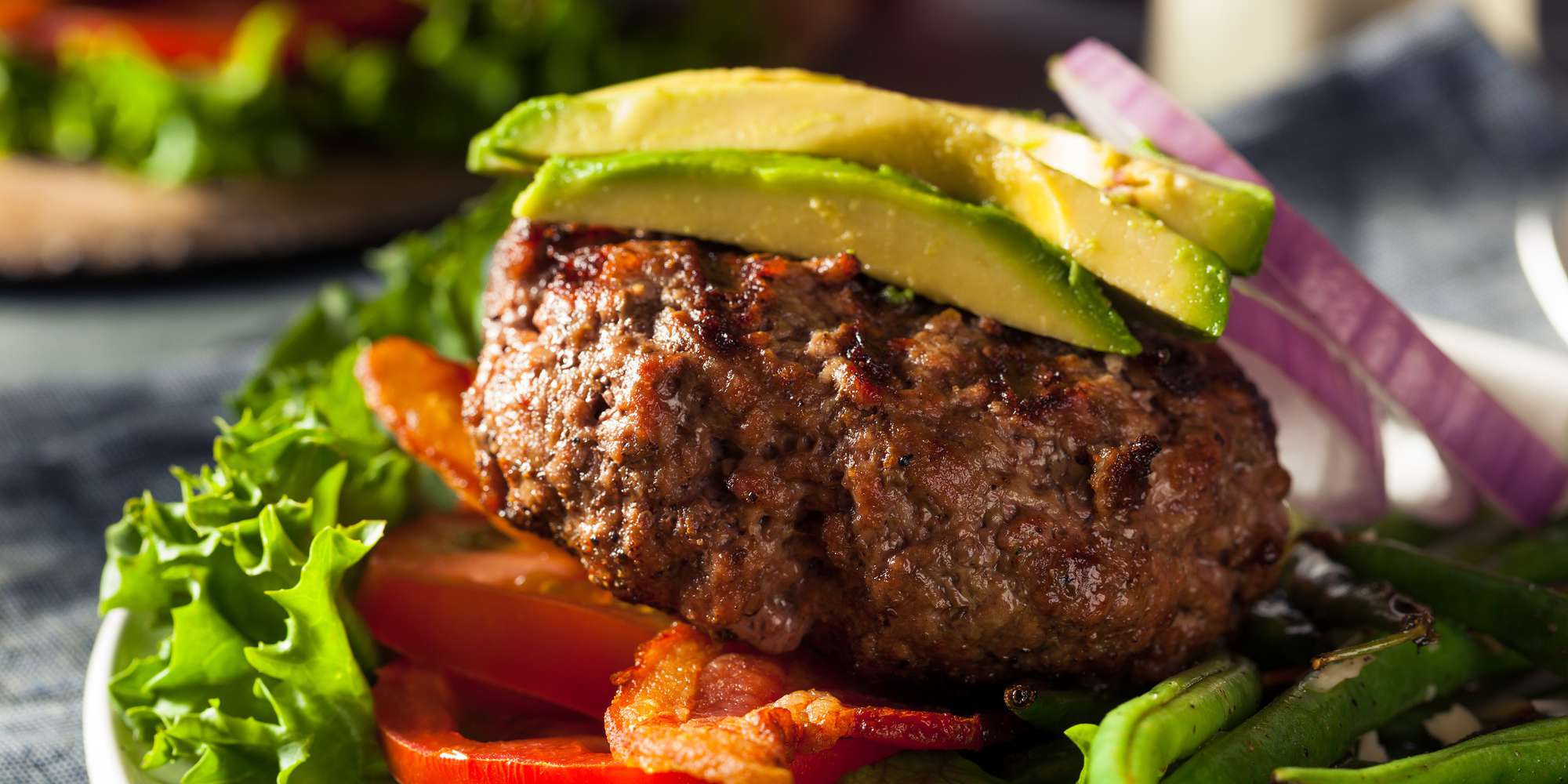 You're going to love this healthy alternative to the classic burger recipe. Topped with cucumber guacamole.
Ingredients
| | |
| --- | --- |
| 1 medium head | Iceberg lettuce (organic, for burgers) |
| 3 large | Carrots (organic, for burgers) |
| 2 large | Zucchini (2 to 3, organic, yellow or green, for burgers) |
| 2 tsp | Oregano, dried (for burgers) |
| 1 tsp | Rosemary, dried (for burgers) |
| 2 tsp | Turmeric, powder (for burgers) |
| 1 pinch | Sea salt (to taste, for burgers) |
| 908 gm | Lamb, ground (for burgers) |
| 2 tbsp | Ghee (2 to 4 tbsp, for cooking burgers) |
| 1/2 cup | Broccoli sprouts (organic, for burgers) |
| 4 avocado(s) | Avocado (ripe, pitted and scooped out, for guacamole) |
| 2 tbsp | Bulletproof Brain Octane Oil (2 to 4 tbsp., for guacamole) |
| 2 tsp | Sea salt (for guacamole) |
| 1 tsp | Apple cider vinegar (1 to 3 tsp. or can use lime juice, for guacamole) |
| 1/8 tsp | Ascorbic acid powder (a pinch, for guacamole - keeps it green longer) |
| 1/2 cucumber(s) | Cucumber (peeled, for guacamole) |
| 1/4 cup | Cilantro (coriander) (chopped or herbs of your choosing, for guacamole) |
Instructions
1. Gently peel off the iceberg lettuce leaves to make top and bottom "burger buns".
2. Use a spiralizer to turn the carrots into springy corkscrew threads. If you don't have time just grate them.
3. Slice the zucchini into thick matchsticks and place the matchsticks into a steamer. Wait to cook them until the burgers are almost done.
4. For the burgers: In a large bowl, mix the oregano, rosemary, turmeric and salt into the lamb, make sure all ingredients are fully incorporated. Once mixed, form eight patties and set them on a plate.
5. Warm a large skillet over medium heat and add ghee.
6. Gently cook the patties in the ghee for about 4 minutes on each side, covering the skillet with a lid (by avoiding high heat, you avoid degrading the lamb while it's cooking.)
7. While the patties are cooking, boil some water for your steamed zucchini. Once the water is boiling, steam the matchstick zucchini to al dente. Be vigilant. It won't take long, about 2 minutes.
8. Prepare the guacamole : place the avocado, oil, salt, vinegar, ascorbic acid and cucumber in the bowl of a food processor or blender and blend until very creamy. Stir in cilantro or herbs of your choice.
To finish: place the burger patties on lettuce leaves and dollop a healthy amount of the guacamole on top of the burger. Top with broccoli sprouts and spiralized carrots and finish with another lettuce leaf. Balance the plate with the zucchini. As a final touch, spoon the juice from the skillet (there should be a fair amount) on top of the zucchini.
Notes:
Quick Tip:
The goal is to cook it through without burning or caramelizing the meat, as it creates heterocyclic amines and AEG's, which break your mitochondria. Reserve the pan juices and top the burger with some juices. There are valuable nutrients there.
Nutrition Facts
Per Portion
Calories from saturated fat
137
Polyunsaturated Fat
4.1 g
Monounsaturated Fat
24.1 g
Total Carbohydrate
23.3 g
Dietary servings
Per Portion
Energy sources