Lemon Chicken Breast
10
55
406
Ingredients
Minutes
Calories
Prep
Cook
Servings
15 min
40 min

4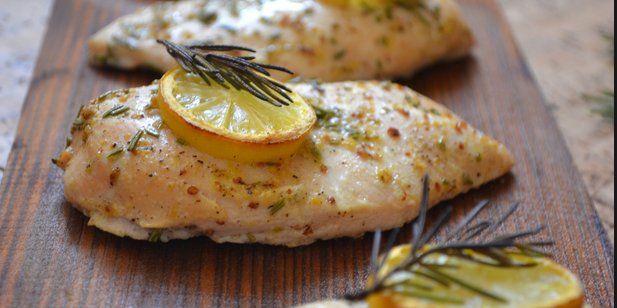 A great source of protein with light and refreshing flavors and beautiful herbs!
Ingredients
| | |
| --- | --- |
| 4 breast | Chicken breast, boneless, skinless |
| 1/4 cup | Extra virgin olive oil |
| 3 tbsp | Garlic (finely chopped) |
| 1/8 tsp | Kosher salt |
| 1/8 tsp | Black pepper |
| 1 medium | Lemon (cut in 8 small wedges) |
| 1 tbsp | Lemon peel (zest) (zest of lemon form the outer peel) |
| 1 1/2 tsp | Oregano, dried |
| 1 tsp | Thyme, fresh (finely chopped) |
| 1/3 cup | White wine |
Instructions
1. Preheat the oven to 400 degrees F.

2. Warm the olive oil in a small saucepan over medium-low heat, add the garlic, and cook for just 1 minute but don't allow the garlic to turn brown.
3. Now off the heat, add the white wine, lemon zest, lemon juice, oregano, thyme, and 1 teaspoon salt and pour into a 9 by 12-inch baking dish.

4. Pat the chicken breasts dry and place them skin side up over the sauce. Brush the chicken breasts with olive oil and sprinkle them liberally with salt and pepper.
5. Cut the lemon in 8 wedges and tuck it among the pieces of chicken.

6. Bake for 30 to 40 minutes, depending on the size of the chicken breasts, until the chicken is done and the skin is lightly browned. If the chicken isn't browned enough, put it under the broiler for 2 minutes.
7. Cover the pan tightly with aluminum foil and allow to rest for 10 minutes.

8. Sprinkle with salt and serve hot with the pan juices.
Notes:
Quick Tips
Poultry internal temperature should be at 165F or 74C for it to be fully cooked inside
---
Nutritional Highlights
Chicken
is rich in lean protein that contributes to muscle growth and repari, it contains selenium, B6 and niacin (B3)
Thyme
is an analgesic herb often used for muscle aches
Oregano
has antiseptic properties with potent activity against bacteria and fungi, the herb inhibits gut flora and play an important role in gut dysbiosis which can be a result of gas and bloating, oregano may help!
Nutrition Facts
Per Portion
Calories from saturated fat
24.8
Polyunsaturated Fat
2.4 g
Monounsaturated Fat
11.0 g
Dietary servings
Per Portion
Energy sources