Low Carb Cuban Oxtail Soup
14
240
643
Ingredients
Minutes
Calories
Prep
Cook
Servings
30 min
3 h 30 min

8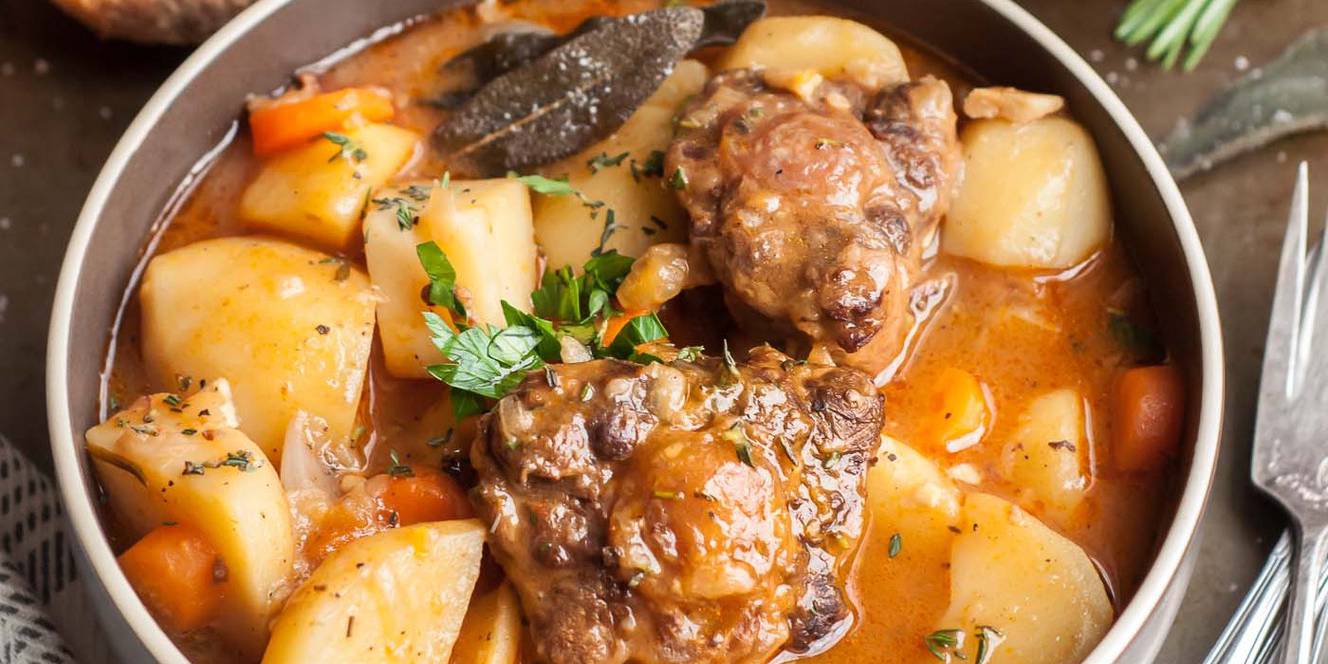 Made with non-starchy vegetables. You can use a dutch oven, slow cooker, or a pressure cooker.
Ingredients
| | |
| --- | --- |
| 1 2/3 kg | Oxtail |
| 1/4 cup | Ghee |
| 1 sprig | Rosemary, fresh |
| 1 sprig | Thyme, fresh |
| 3 leaf | Bay leaf |
| 1/4 tsp | Ground cloves |
| 2 tbsp | Lemon juice |
| 2 1/2 l | Water (bone broth -) |
| 1 medium | Rutabaga, Swedish turnip, raw (diced) |
| 1 can(28oz) | Crushed tomatoes canned (unsweetened ) |
| 2 cup | Green/yellow string beans, raw (chopped) |
| 2 medium leek(s) | Leek (sliced) |
| 2 medium stalk(s) | Celery (sliced) |
| 1 pinch | Salt and pepper (to taste) |
Instructions
Heat a large pot or a Dutch oven greased with ghee over a medium-high heat. Pat dry the oxtails with a paper towel and sprinkle with salt and pepper. Place the oxtails in the pot and brown on all sides for about 10 minutes.You can also use a slow cooker. After browning the meat, transfer it into the slow cooker and cook on high for 4 hours and add the vegetables for the 60-90 minutes of the cooking process.
Add the rosemary, thyme, cloves, and bay leaves. You can make a bouquet garni by placing all the herbs in a piece of cheesecloth and tying with an unwaxed kitchen string. This will make it easy to remove once cooked. Add the lemon juice and water (or broth). Bring to a boil and then reduce the heat to low. Cover with a lid and simmer for about 3 hours or until the meat is soft and falls off the bones.
After about 3 hours, use kitchen tongs to remove the meat from the pot. Let the oxtails cool down on a plate and then shred the meat off.There's going to be lots of gelatine left on the bones - you can use them for making a batch of homemade bone broth!
While the meat is cooling down, prepare the vegetables. Peel and dice the rutabaga into about 1-inch pieces. Add it to the pot, cover with the lid and cook for about 10 minutes.
Add the tomatoes, chopped green beans, sliced leeks, and sliced celery stalks. Cook for another 10-15 minutes or until the rutabaga and green beans are tender.
Add the shredded meat and more water if needed. Season with salt and pepper to taste.Enjoy!
Nutrition Facts
Per Portion
Calories from saturated fat
133
Polyunsaturated Fat
0.5 g
Monounsaturated Fat
1.6 g
Total Carbohydrate
17.7 g
Dietary servings
Per Portion
Energy sources