Low Carb Ham & Cheese Calzones
11
55
735
Ingredients
Minutes
Calories
Prep
Cook
Servings
30 min
25 min

6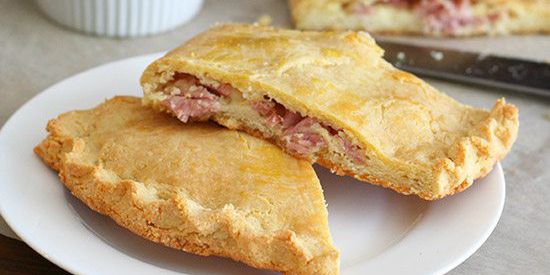 A delicious ham and cheese filling wrapped in a buttery almond flour crust. Add anything you like inside!
Ingredients
| | |
| --- | --- |
| 2 1/4 cup | Almond flour/meal, Bob's Red Mill |
| 6 tbsp | Coconut flour |
| 1/3 cup | Whey protein powder, unflavoured |
| 1 tbsp | Baking powder |
| 1 tsp | Garlic powder |
| 3/4 tsp | Xanthan gum |
| 3 large egg | Egg |
| 6 tbsp | Butter, unsalted (melted) |
| 3 cup shredded | Swiss cheese (or any cheese or combination of preference) |
| 1 1/2 cup | Ham, sliced (chopped) |
| 1 egg yolk | Egg yolk |
Instructions
Preheat oven to 325F.
In a large bowl, combine almond flour, whey protein, coconut flour, baking powder, garlic and xanthan gum.
Add eggs and melted butter and mix until dough comes together.
Divide dough in half. Turn out first half onto a large piece of parchment paper and pat into a rough circle. Top with another piece of parchment paper and roll out into a large circle, about 12 inches in diameter (roll it out quite thinly). Remove top piece of parchment.
Sprinkle one half of the circle with about 1 & 1/2 cups of shredded cheese and 3/4 cup of chopped ham, leaving a 3/4 inch border for sealing the calzone.
Use the parchment paper to lift and gently fold the other half of the dough over the cheese and ham filling. Pinch the edges to seal and crimp it with your fingers to create a nice edge.
Repeat with remaining dough and filling. Transfer calzones, still on the parchment on to baking sheets (or one large one, if you have it).
Mix egg yolk in a small bowl and brush over the calzones.
Bake 25 to 30 minutes, or until crust is golden brown.
Nutrition Facts
Per Portion
Calories from saturated fat
219
Polyunsaturated Fat
1.9 g
Monounsaturated Fat
10.4 g
Total Carbohydrate
16.1 g
Dietary servings
Per Portion
| | |
| --- | --- |
| Meat | 0.5 |
| Meat Alternative | 2.0 |
| Milk Alternative | 1.1 |
Energy sources