Low Carb Lamb Kofta Kebabs
16
37
180
Ingredients
Minutes
Calories
Prep
Cook
Servings
30 min
7 min

10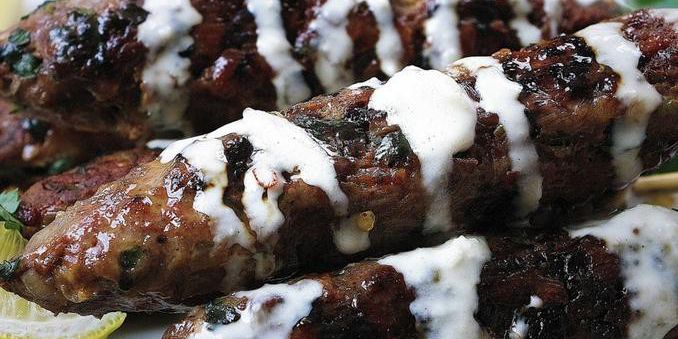 Serve with sliced tomato, lettuce, and lemon wedges. Please see "Notes" below for important information.
Ingredients
| | |
| --- | --- |
| 454 gm | Lamb, ground |
| 3 clove(s) | Garlic (crushed; Seasonings) |
| 1/2 cup | Parsley, fresh (finely chopped; Seasonings) |
| 2 large shallot(s) | Shallots (finely chopped; Seasonings) |
| 1 tsp | Coarse salt (Seasonings) |
| 1 tsp | Cumin (Seasonings) |
| 1 tsp | Coriander, ground (Seasonings) |
| 1 tsp | sumac, ground (Seasonings) |
| 1/2 tsp | Paprika, smoked (Seasonings) |
| 1/4 tsp | Hot pepper (chili) flakes (optional; Seasonings) |
| 1 tbsp | Extra virgin olive oil (Seasonings) |
| 1/3 cup | Tahini (Tahini sauce) |
| 1/3 cup | Water (or more for thinner consistency;Tahini sauce) |
| 2 clove(s) | Garlic (grated; Tahini sauce) |
| 1/4 tsp | Sea salt, fine (Tahini sauce) |
| 1 whole lemon(s) | Lemon juice (to taste; Tahini sauce) |
Instructions
Mix ground lamb with seasonings. Gently mix them well but do not overwork the meat. Divide them roughly to about 10 parts to form individual meat skewers.*
Grab 1 part of the ground meat and form a round meatball shape then flatten it over your palm and place one skewer in the center. Gently squeeze and shape the meat over skewers to make cylinder shape and use your thumb to slightly flatten the meat over skewers so that the meat will cook evenly and be more delicious. Set the skewers over a large flat plate or store in the fridge cover with clear wrap until ready to use.*
Preheat a large skillet over medium/medium-low heat until hot (but not to a smoking point), then add cooking fat of your choice. Swirl the oil in the skillet so the oil is distributed evenly. Add skewers and grill over medium heat. First side about 4 minutes and carefully flip to cook additional 3 minutes for the flip side. Cook in batches so to not overcrowd the skillet.
Serve immediately while the skewers are hot (this will be more tasty and the meat will be less dry tasting particularly if the fat to lean meat ratio isn't as high in your ground meat) with chilled tahini sauce and topping of your choice (sliced tomatoes, mixed greens ...etc.)
Notes:
Pre-soak 10-12 7 1/2 inch wooden skewers in water before grilling.
Before making the skewers, take one small portion and pan-fry the ground meat to taste if more seasonings or salt is needed to your preference.
If making ahead and not grilling the skewers until next day, finish steps 1 and 2 and gently wrap them over parchment paper and store flat in large ziplock bags and store in the freezer. Defrost in the fridge overnight before grilling.
The cooking time indicates per skewer cooking time (4 mins + 3 mins on the flip side). Please adjust cooking time based on the meat quantity per skewer.
Nutrition Facts
Per Portion
Calories from saturated fat
33
Polyunsaturated Fat
2.4 g
Monounsaturated Fat
5.6 g
Dietary servings
Per Portion
| | |
| --- | --- |
| Meat | 0.5 |
| Meat Alternative | 0.2 |
| Vegetables | 0.4 |
Energy sources