Low Carb Vietnamese Pho
13
195
253
Ingredients
Minutes
Calories
Prep
Cook
Servings
15 min
3 h

5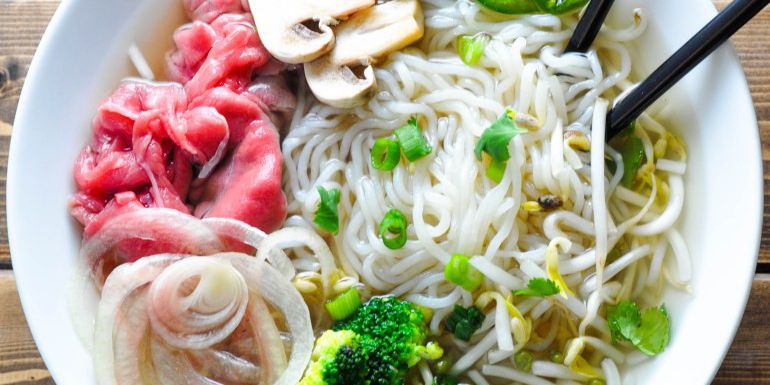 Now you can enjoy pho without the carbs! See "Notes" below for keto-friendly toppings.
Ingredients
| | |
| --- | --- |
| 454 gm | Beef bones (5-6 bones; browned and roasted - the more connective tissue; the better!) |
| 1/2 medium | White onion (charred) |
| 1 tbsp minced | Ginger root (sliced) |
| 1 tbsp | Salt |
| 3 tbsp | Fish sauce |
| 2 star | Anise seeds |
| 4 l | Water |
| 5 package | Tofu Shirataki spaghetti noodles (rinsed, 7 oz bags) |
| 563 gm | Beef, flank (raw, thinly sliced) |
| 1 cup | Bean sprouts |
| 1 bunch | Thai basil, fresh |
| 1/2 medium pepper(s) | Jalapeno pepper (sliced) |
| 1/2 green onion (stem) | Green onion, scallion, ramp (chopped) |
Instructions
Preheat oven to 425° F.
Cover beef bones in water and boil for 15 minutes in a large stockpot on the stovetop while the oven preheats. Discard water.
Place parboiled beef bones and onion on baking sheet or casserole dish and roast for 45 -60 minutes, until bones are browned and onion is blackened.
Toss bones, onion, fresh ginger, salt, fish sauce, star anise and fresh water into pressure cooker.
Set pressure cooker to high pressure for 2 hours. If you are using a stovetop, you will simmer for 6-8 hours instead.
Strain broth with fine colander.
Place shirataki noodles and meat of choice in bowl, pour broth over the top into bowl while it is still very hot.
Stir and let sit until raw meat is no longer pink and noodles are cooked, 1 to 2 minutes.
Serve with condiments and veggies of choice on the side.
Notes:
Lime – A squirt from a lime wedge usually does the trick with minimal amount of carbs
Sriracha – It's delicious, I know. But watch your portioning: there's 1 gram of sugar per teaspoon, so it is effortless to go overboard on carbs if you are a fan of the rooster sauce or like it super spicy!
Chili Garlic Paste – The brand I use (Huy Fong) that is available at most restaurants has less than 1 gram of sugar and reads 0 total carbs on the nutrition label. Better option to make it spicy on a keto diet.
Thai Basil – Super aromatic, this is a lovely herb for any soup. Plus its low carb!
Cilantro – Have at it! This herb is keto compliant.
Hoisin Sauce – Not keto friendly! It's chalk full of sugar! Stay away.
Veggies – Bean Sprouts, Jalapeno, Mushrooms, Onion, Scallion, Broccoli are favorites for pho. Use what you like, just be sure to track the carbs for whatever you add. (My low carb veggie list can help you with that!)
Meat – A-OK on keto. Select a traditional cut of meat or get creative! Up to you!
Nutrition Facts
Per Portion
Calories from saturated fat
40
Polyunsaturated Fat
0.5 g
Monounsaturated Fat
5.2 g
Dietary servings
Per Portion
| | |
| --- | --- |
| Meat | 1.2 |
| Meat Alternative | 7.5 |
| Vegetables | 0.4 |
Energy sources