Mashed Sweet Potatoes with Banana and Brown Sugar
8
30
505
Ingredients
Minutes
Calories
Prep
Cook
Servings
5 min
25 min

8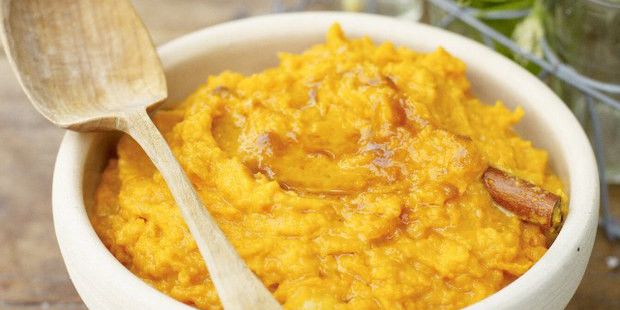 I know what you're thinking. Bananas? Trust me. It's a little trick I picked up from my nights in the kitchen at the famous Le Cirque, in Manhattan.
Ingredients
| | |
| --- | --- |
| 8 medium | Yam |
| 3 tbsp | Kosher salt (plus additional as needed) |
| 1 medium | Banana (s) (with a 2-inch slit cut into the peel) |
| 8 tbsp | Butter, unsalted |
| 2 cup | Heavy cream, 38% M.F. |
| 1 stick(s) | Cinnamon |
| 1/4 cup packed | Brown sugar |
| 1 tsp | Black pepper (finely ground fresh; plus additional as needed) |
Instructions
Wash each of the potatoes well, poke holes into them with a fork, rub each with salt, and wrap with heavy-duty aluminum foil.
Place directly on hot coals and cook for about 20 minutes (or cook in a 350°F barbecue for about 50 minutes, or until tender when pierced with a paring knife). At the same time, cook the banana in the peel until blackened, about 15 minutes.
Carefully take the potatoes out of the foil and scoop the flesh out from the skin into a large bowl. Cover with foil. Scoop the flesh out of the banana into a separate bowl.
Increase temperature to high.
Place a small roasting pan or deep baking dish with high sides that can take the direct flame (a 13 x 9-inch baking dish with a 15-cup capacity is ideal) over the heat and let heat up for 5 minutes.
Add the butter and let melt. Add the cream, cinnamon stick, brown sugar, potatoes, banana, 1 teaspoon of salt, and 1 teaspoon of pepper. Using a potato masher, mash the potatoes and banana, and stir to combine.
Season to taste with additional salt and pepper as needed.
Nutrition Facts
Per Portion
Calories from saturated fat
184
Polyunsaturated Fat
1.3 g
Monounsaturated Fat
9.1 g
Dietary servings
Per Portion
Energy sources