Mixed Berry Galette
13
70
328
Ingredients
Minutes
Calories
Prep
Cook
Servings
40 min
30 min

6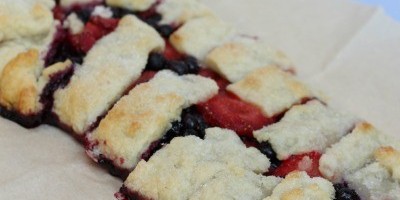 Ingredients
| | |
| --- | --- |
| 2 cup | Mixed berries (or skinned sliced peaches) |
| 1/3 cup | Granulated sugar |
| 1 tsp | Vanilla extract, imitation, without alcohol |
| 1 tsp | Cornstarch |
| 1/2 tsp | Cinnamon (optional) |
| 2 tsp | All-purpose white flour |
| 1 tsp | Lemon juice |
| 1/4 cup | Raspberry juice (or peach juice) |
| 1/4 tsp | Salt |
| 1/2 cup | Butter, unsalted (COLD) |
| 1 1/2 cup | All-purpose white flour |
| 1 tsp | Vinegar, white |
| 3 tbsp | Water |
Instructions
For the Filling:

- berries or peaches
- vanilla
- cornstarch
- cinnamon
- flour
- lemon juice
- peach or berry juice

For the Pastry:

- salt
- butter
- flour
- vinegar
- water

First make the pastry.

Stir together salt and flour.

Either shred butter with a cheese grater or cut into large cubes with a knife.

Cut butter into flour mixture until small crumbs form.

Mix together vinegar and ice water.

Add water mixture to the flour/butter mixture and stir well until dough comes together (NOTE: I use my hands to do this and it takes a good minute or two to come together).

Gather dough into a ball, wrap with plastic wrap and refrigerate for a minimum of 30 minutes (or even overnight).

Next, make the Berry or Peach Mixture.

See instructions for how to peel peaches (Peach Galette).

Slice peaches (Peach Galette).

Wash and measure berries, can use any kind (Berry Galette).

Stir in ⅓ cup sugar into the berry or peach mixture and let sit for 30 minutes. Stir occasionally.

Drain berry or peach mixture and reserve ¼ cup of the juices.

Mix in the vanilla, cornstarch, flour,, cinnamon and lemon juice into the ¼ cup of reserved juice.

Add the juice mixture to the berries or peaches and stir to combine.

Take dough out of fridge for approximately 10 minutes prior to rolling.

Roll out dough on a surface sprinkled with icing sugar (powdered sugar) to desired thickness (approximately ⅛th an inch thick). Aim for a rectangular shape.

Place dough on a cookie sheet.

Make cuts into your dough.

Put your filling down the middle of the dough and criss cross the pastry strips across one another, leaving an opening in the middle (see photo of finished product).

Brush dough with milk or an egg wash (1 egg mixed with 2 Tbsp water) and sprinkle with sugar.

Bake at 400 degrees F for approximately 30 minutes.
Notes:
Watch for juices running out and keep an eye out for burning.
Nutrition Facts
Per Portion
Calories from saturated fat
88
Polyunsaturated Fat
0.7 g
Monounsaturated Fat
4.0 g
Dietary servings
Per Portion
Energy sources