Morning Maple Cranberry Pecan Oat Bars
11
30
240
Ingredients
Minutes
Calories
Prep
Cook
Servings
10 min
20 min

16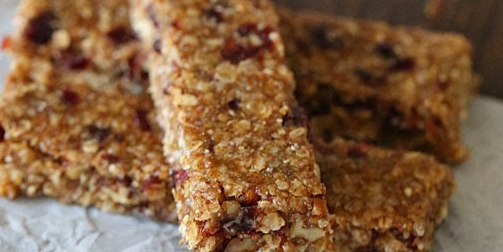 A great quick morning breakfast to take to go!
Ingredients
| | |
| --- | --- |
| 1 cup | Almond butter |
| 1 cup | Almond milk, unsweetened |
| 1/2 cup | Cereal,hot oats (with oat bran, wheat bran, and flax seed), dry |
| 1 tsp | Cinnamon |
| 1 cup | Cranberries, dried (chopped) |
| 1/2 cup | Maple syrup, pure |
| 3 spray (about 1/3 second) | Olive oil cooking spray |
| 1/2 cup | Pecans |
| 2 cup | Rolled oats, dry |
| 1/4 tsp | Sea salt, fine |
| 1 tsp | Vanilla extract, pure |
Instructions
1. Preheat oven to 350°F. Line a 9-inch square baking pan with foil or parchment paper and then spray with nonstick spray.

2. Spread the oats and pecans on a large rimmed baking sheet. Bake in the preheated oven for 6 to 8 minutes, shaking halfway through, until golden and fragrant. Transfer to a large bowl; add the chopped cranberries.

3. Bring the milk to a boil in a small saucepan set over medium heat. Stir in the multi-grain cereal and remove from the heat; let stand for 2 minutes. Add the nut or seed butter, maple syrup, cinnamon, and salt. Cook and stir the mixture over low heat for 6 to 7 minutes or until thickened; remove from the heat and stir in vanilla extract.

4. Immediately add the cereal mixture to the oats mixture, mixing with a spatula until coated.

5. Transfer the mixture to the prepared pan and flatten with the back of a measuring cup.

6. Place a large piece of parchment paper or wax paper atop the bar mixture and use it to spread, flatten, and very firmly compact the bars evenly in the pan. Cool completely. Refrigerate at least 1 hour or until firm.

7. Using the liner, lift the mixture from the pan and transfer to a cutting board. Peel off the foil or parchment and cut into 16 bars.
Notes:
Almond Butter
contains vitamin E and Magnesium, may help boost heart health
Oats
contain beta glucans which is a soluble fiber and may help decrease blood sugar levels and serum cholesterol
Nutrition Facts
Per Portion
Calories from saturated fat
11.0
Polyunsaturated Fat
3.0 g
Monounsaturated Fat
7.8 g
Total Carbohydrate
26.1 g
Dietary servings
Per Portion
| | |
| --- | --- |
| Fruit | 0.2 |
| Grain | 0.4 |
| Meat Alternative | 0.6 |
Energy sources