My Favourite Vegan Chili
20
60
453
Ingredients
Minutes
Calories
Prep
Cook
Servings
30 min
30 min

4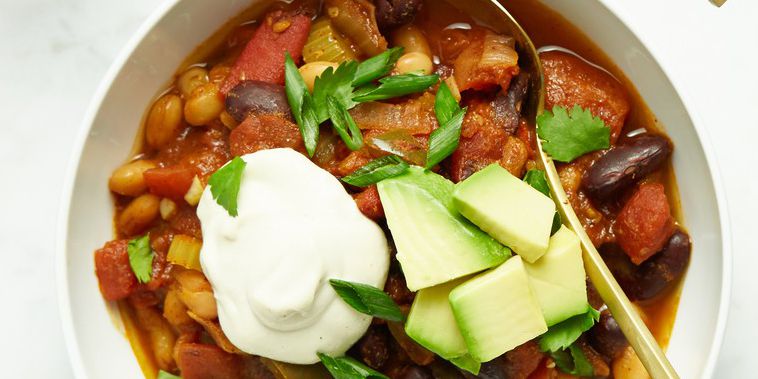 Hearty, satisfying, and veggie-packed, this vegan chili
Ingredients
| | |
| --- | --- |
| 1 1/2 tbsp | Olive oil (extra-virgin) |
| 2 cup | White onion ((280 g) diced sweet; (about 1 medium/large)) |
| 2 tbsp | Garlic (minced; (about 4 large cloves)) |
| 2 medium pepper(s) | Jalapeno pepper (medium; (80 g), seeded (if desired) and finely chopped) |
| 1 cup chopped | Celery ((115 g) finely chopped celery (about 2 large stalks) *) |
| 1 large pepper(s) | Red bell pepper (seeded and diced**) |
| 1 can(s) (28oz) | Diced tomatoes, canned ((796 mL); with juices) |
| 1 cup | Vegetable stock/broth, low sodium ((250 mL) ) |
| 6 tbsp | Tomato paste, organic ((90 mL)) |
| 1 can(s) (15 oz) | Red kidney beans, canned, drained ((398 mL); drained and rinsed) |
| 1 can(s) (15oz) | Pinto beans, canned ((398 mL); drained and rinsed) |
| 2 tbsp | Chili powder |
| 2 tsp | Cumin (ground) |
| 1 tsp | Oregano, ground |
| 1/2 tsp | Salt ((1/2 to 3/4); fine grain sea; to taste) |
| 1/4 tsp | Cayenne pepper (ground; (optional)) |
| 1 tsp | Hot sauce (optional) |
| 1 tbsp | Sour cream, vegan |
| 1 tsp | Green onion, scallion, ramp (Chopped, to taste) |
| 1 tsp | Cilantro (coriander) (Fresh; chopped) |
Instructions
In a large pot, sauté the onion and the garlic in the oil over medium heat until soft and translucent, about 5 minutes. Season with a pinch of salt and stir.
Add the jalapeños, celery, and bell pepper and sauté for another 5 to 7 minutes or so, until softened.
Now add the can of diced tomatoes (with the juice), broth, and tomato paste. Stir to combine. Increase heat to medium-high.
Add the drained and rinsed beans, along with the chili powder, cumin, oregano, and salt. Simmer the mixture, uncovered, until thickened, about 10 to 15 minutes.
Add the cayenne and hot sauce to taste, if using. Taste and season with additional salt if desired.
Serve with Cashew Sour Cream, chopped green onion, and cilantro leaves, if desired.
Notes:
* I recommend finely chopping the celery so it cooks faster.
** Try swapping the raw red pepper for jarred roasted red pepper. It makes the flavour simply out of this world!
Nutrition Facts
Per Portion
Calories from saturated fat
19.8
Polyunsaturated Fat
3.0 g
Monounsaturated Fat
7.0 g
Dietary servings
Per Portion
| | |
| --- | --- |
| Meat Alternative | 1.4 |
| Vegetables | 5.7 |
Energy sources