My Go-to Eggs & Greens
7
15
291
Ingredients
Minutes
Calories
Prep
Cook
Servings
10 min
5 min

2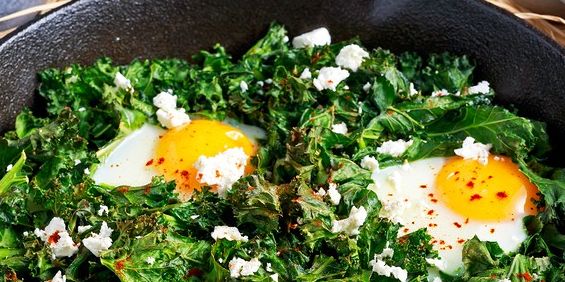 If you're looking for a healthy breakfast or lunch, this recipe for eggs & greens is the perfect way to get it all in one meal.
Ingredients
| | |
| --- | --- |
| 2 cup | Baby spinach (can use any type of greens) |
| 2 tbsp | Basil pesto (Sunflower Kitchen makes amazing pestos!) |
| 1/2 tbsp | Extra virgin olive oil |
| 1 pinch | Salt (to taste) |
| 1 dash | Black pepper (to taste) |
| 2 tbsp | Goat cheese, semi-soft (can use 1/2 an avocado for dairy free version) |
| 4 large egg | Egg |
Instructions
1. Add baby spinach to a large mixing bowl.
2. Add pesto, 1/2 tablespoon olive oil, salt and pepper to your mixing bowl with the spinach, mix to combine all of the ingredients and coat the spinach. Top with goat cheese or 1/2 an avocado and set aside.
3. Prepare the eggs whatever way you like them best (poached, scrambled, over easy, over hard). I like them poached, see notes for poached instructions.

4. Place the prepared eggs on top of spinach mixture. Dig in!
Nutrition Facts
Per Portion
Calories from saturated fat
60
Polyunsaturated Fat
2.0 g
Monounsaturated Fat
7.5 g
Dietary servings
Per Portion
| | |
| --- | --- |
| Meat Alternative | 1.1 |
| Milk Alternative | 0.2 |
| Vegetables | 1.0 |
Energy sources
Notes:
Quick Tips:
To poach eggs: Add a large pot of water to your stove-top over medium-high. When the water hits an almost simmer, add a splash of vinegar to the water. Crack the egg into a small bowl (one egg at a time). Stir the water with a spoon to create a 'whirlpool' effect. Pour the egg into the middle of the swirling tornado and watch the egg white wrap around the yolk helping to bind it all together. Turn off heat & allow the egg to cook for 5 mins (or 8 if you like hard poached). Remove the egg from the water with a slotted spoon and serve.
Sunflower Kitchen is a great pesto brand to use for this recipe, or you can simply make your own.
For vegan substitutions, use tofu or tempeh instead of eggs.

---

Nutritional Highlights:
Spinach
Spinach is one of the best sources of plant-based iron.
Eggs
Eggs are a great high-protein breakfast option.