My Sister's Phenomenal Grilled Green Chicken
13
55
688
Ingredients
Minutes
Calories
Prep
Cook
Servings
10 min
45 min

4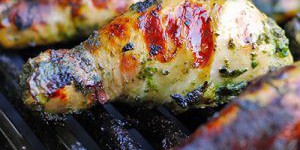 This zingy, herby green Paleo marinade is downright magical because it transforms chicken into the best dang dish you've ever eaten.
Ingredients
| | |
| --- | --- |
| 1 onion(s) | Sweet onion (peeled and coarsely chopped; about 1 cup) |
| 1 cup | Cilantro (coriander) (packed; leaves and stems) |
| 1 1/4 cup | Basil, fresh (packed) |
| 1/4 cup | Mint, fresh (packed) |
| 1/4 cup | Fish sauce |
| 3 clove(s) | Garlic (peeled) |
| 1 whole lime(s) | Lime peel (zest) |
| 3 dash | Black pepper (plenty ground) |
| 1 tsp | Ancho chili powder (or Aleppo pepper, or cayenne pepper, or crushed chili flakes) |
| 2 tbsp | Apple juice (or 1 tsp maple syrup) |
| 1 pinch | Kosher salt |
| 1 1/3 kg | Chicken, drumstick (or thighs) |
| 1 fruit | Lime (cut into wedges; optional) |
Instructions
Gather the ingredients, and make the marinade by adding the onion, cilantro, basil, mint, fish sauce, garlic, lime zest, black pepper, Aleppo pepper, and apple juice to a high powered blender.
Purée until smooth. Taste for seasoning and add salt to taste. This is a marinade, so feel free to be a bit more heavy-handed with the salt than you normally would if using this as a sauce.
Place the chicken in a gallon-sized food-safe zipper bag, and pour the marinade over it. Rub the chicken through the bag to make sure the marinade is well distributed. Seal the bag and marinate the chicken overnight in the fridge for at least one hour and up to one day. About an hour before you're ready to grill, take the chicken out of the fridge.
No grill? No problem—you can roast the chicken in the oven by roasting on a wire rack for 35-45 minutes at 400°F. If you're using thighs instead of drumsticks, start with the chicken skin-side down, and flip it skin-side up at the 20 minute mark.
Personally, I prefer making Green Chicken on the grill. Set the grill to high, and place the chicken on the grates. Then, immediately decrease the heat to low.
Grill the chicken for approximately 25 minutes (or until the internal temperature reaches 165°F), turning every 5-7 minutes. Be patient: Don't go and flip the bird (legs, that is) before they naturally release from the grill surface—otherwise, you'll leave a lot of tasty, crispy, marinated skin stuck on the grates!
Serve the chicken with lime wedges.
Nutrition Facts
Per Portion
Calories from saturated fat
106
Polyunsaturated Fat
9.7 g
Monounsaturated Fat
16.7 g
Total Carbohydrate
12.3 g
Dietary servings
Per Portion
| | |
| --- | --- |
| Fruit | 0.4 |
| Meat | 3.8 |
| Vegetables | 1.5 |
Energy sources