Nacho Flavoured Kale Chips
7
25
382
Ingredients
Minutes
Calories
Prep
Cook
Servings
10 min
15 min

4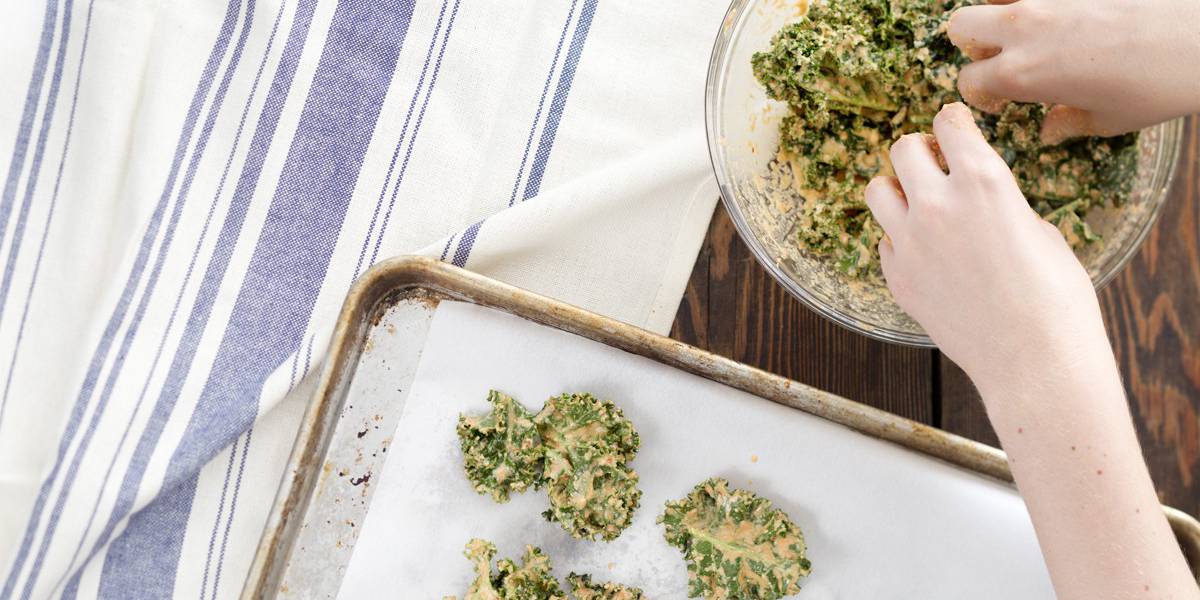 Nacho flavoured kale chips are bringing your 'chip' addiction to a whole new level of healthy!
Ingredients
| | |
| --- | --- |
| 1 large pepper(s) | Red bell pepper |
| 1 whole lemon(s) | Lemon juice |
| 1 cup | Cashew nuts, raw (or sunflower seeds - soaked for 2 hours) |
| 1/2 tsp | Red pepper flakes (optional) |
| 1/2 tsp | Himalayan sea salt |
| 1/2 cup | Nutritional yeast |
| 1 bunch | Kale (de-stemmed and torn into pieces - they will shrink in the dehydrator) |
Instructions
*see #6 for cooking options

1. Prep, de-stem and chop your kale by washing the leaves and patting them dry. Then take a sharp knife and cut lengthwise down the leaves, along the stem. Remove the stem by setting it aside and chop your kale into large, 'chip-sized' pieces. Place all of your kale into a large mixing bowl.

2. Prep your seasoning by chopping the red pepper into chunks and adding them to a blender with the lemon juice. Blend until the pepper is broken down.

3. Then add the cashews or sunflower seeds, red chili pepper flakes and salt and again blend until smooth.

4. Add the nutritional yeast and blend again. Doing this in stages helps you to get the smooth consistency you need without overheating it.

5. Pour the blended mixture over it and massage it in until all the leaves are thoroughly coated.

6. Place all of your kale flat on the dehydrator trays on mesh sheets and dehydrate at 110 degrees Fahrenheit for about 8 hrs (try to not overcrowd), turning once halfway through. If they aren't crispy enough, leave them in a bit longer. If you don't have a dehydrator, you can also roast your kale chips in a 350-degree oven for 10 to 15 minutes. However, you run the risk of them becoming a bit soggy with this method.

Notes:
Quick Tips:
If you are having troubles blending the red pepper mixture until smooth and creamy, add in 1 Tbsp of water at a time until you get your desired consistency.

Cook time reflects cooking in the oven.

---
Nutritional Highlights:
Kale
Kale is a member of the cabbage family and regarded as one of the most nutrient-dense foods on the planet. With over 200% RDA Vitamin A, over 600% RDA Vitamin K, and over 100% RDA Vitamin C, kale is a wonderful food to try to incorporate into your daily diet for overall health.

Nutrition Facts
Per Portion
Calories from saturated fat
24.1
Polyunsaturated Fat
3.1 g
Monounsaturated Fat
8.9 g
Dietary servings
Per Portion
| | |
| --- | --- |
| Meat Alternative | 1.1 |
| Vegetables | 2.5 |
Energy sources