Stress Relieving Green Smoothie
10
5
256
Ingredients
Minutes
Calories
Prep
Cook
Servings
5 min
0 min

2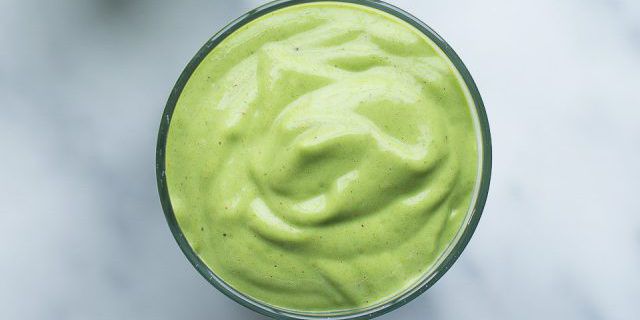 This Stress Relieving Green Smoothie is made with superfoods that may naturally reduce stress and anxiety
Ingredients
| | |
| --- | --- |
| 1/2 cup | Greek yogurt, plain, 2% M.F. (or vegan yogurt) |
| 2 tsp | Flaxseed oil |
| 1 tsp | Ginseng powder |
| 1/8 tsp | Himalayan sea salt |
| 2 tbsp | Cocoa powder, unsweetened |
| 2 cup | Baby spinach |
| 1/2 medium | Frozen banana |
| 3/4 cup | Almond milk, unsweetened |
| 1/8 tsp | Turmeric, ground |
| 1/2 avocado(s) | Avocado (Peeled & pitted) |
Notes:
Quick Tips:
If you'd rather your smoothie be a bit sweeter, add some honey or pure maple syrup to taste.
Nutritional Highlights:

Leafy greens
are a great source of folate, a B Vitamin that can help your body produce serotonin and dopamine. Spinach is also rich in magnesium. Many of the ingredients in this smoothie are also high in magnesium for good reason.

Ginseng
Adaptogen that supports working memory, reaction time, calmness, and immune system.
Nutrition Facts
Per Portion
Calories from saturated fat
24.1
Polyunsaturated Fat
4.3 g
Monounsaturated Fat
7.0 g
Total Carbohydrate
19.8 g
Dietary servings
Per Portion
| | |
| --- | --- |
| Fruit | 0.3 |
| Milk Alternative | 0.7 |
| Vegetables | 1.5 |
Energy sources