Night + Market Pad Thai
12
40
629
Ingredients
Minutes
Calories
Prep
Cook
Servings
30 min
10 min

2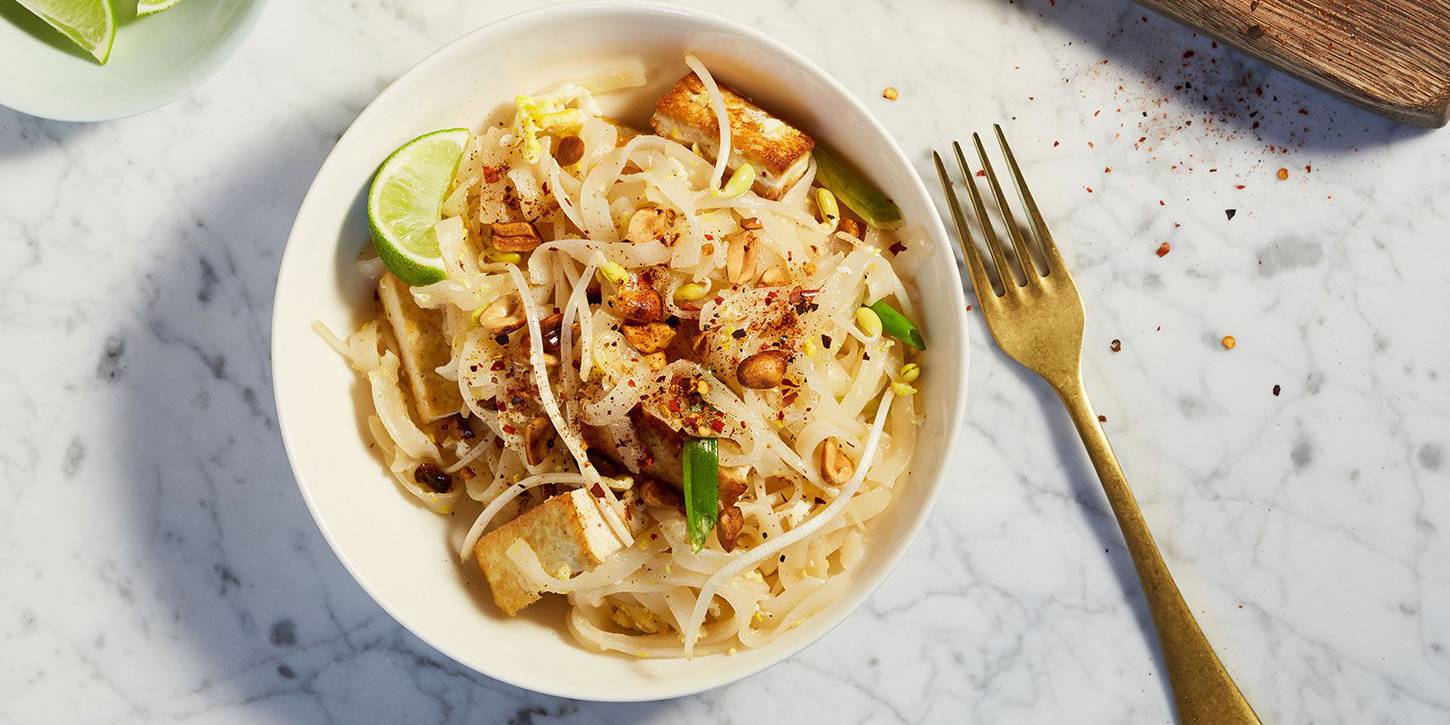 We were so excited to learn how easy Night + Market's famous pad thai is to make at home. If you don't have a wok, just use the biggest sauté pan you can find!
Ingredients
| | |
| --- | --- |
| 114 gm | Rice noodles, dry |
| 2 tbsp | Granulated sugar |
| 2 tbsp | Fish sauce |
| 2 tbsp | Vinegar, white |
| 3 tbsp | Vegetable oil |
| 114 gm | Tofu, regular, extra firm |
| 1 medium egg | Egg |
| 1 cup | Bean sprouts |
| 2 green onion (stem) | Green onion, scallion, ramp (cut on an angle into 2-inch slices) |
| 2 tbsp | Peanuts, roasted |
| 1 tsp, minced | Red Thai chili pepper (dried) |
| 2 slice | Lime (wedges) |
Instructions
1. Soak the noodles in warm water for 30 minutes, until pliable enough to bend around a finger. If you're not using them immediately, you can drain the noodles and keep them in the fridge until ready to use.
2. In a small bowl, stir together the sugar, fish sauce, and vinegar to make a sauce.
3. Heat an empty wok over high heat until it begins to smoke, then swirl in the oil. Once the oil is shimmering, add the tofu and stir-fy until golden, which should take a few minutes. Add the noodles and a splash of water to help them start cooking. Add the sauce, then continue to stir-fry, constantly stirring, until the noodles absorb the sauce, about another minute.
4. Use your spatula to push aside the noodles and leave them there, making an empty space in the center of the wok. Crack an egg into the empty space and let it cook until the edges start to set, 15 to 20 seconds. Use the edge of your spatula to break up and roughly scramble the egg, then toss it back in with the noodles while the egg is still soft. Once the egg looks mostly cooked, remove the heat and throw in the bean sprouts and green onions, tossing thoroughly to combine.
5. Transfer to a plate and garnish with the peanuts, chili powder, and lime wedge.
Nutrition Facts
Per Portion
Calories from saturated fat
41
Polyunsaturated Fat
14.2 g
Monounsaturated Fat
9.7 g
Dietary servings
Per Portion
| | |
| --- | --- |
| Fruit | 0.1 |
| Grain | 2.8 |
| Meat Alternative | 0.9 |
| Vegetables | 0.6 |
Energy sources