Low Carb Oxtail Stifado
17
330
1007
Ingredients
Minutes
Calories
Prep
Cook
Servings
30 min
5 h

4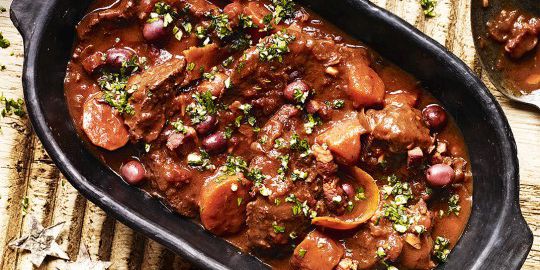 This stew is slow-simmered to bring out every ounce of goodness from the meat and vegetables. It's savory with a hint of sweetness!
Ingredients
| | |
| --- | --- |
| 8 onion | Pearl onion |
| 3 clove(s) | Garlic |
| 3 tbsp | Tomato paste, organic |
| 908 gm | Oxtail (cut into pieces) |
| 1 tbsp | Salt |
| 1/2 tbsp | Black pepper |
| 1 whole orange(s) | Orange juice |
| 1 whole orange(s) | Orange peel (zest) |
| 1 can(16oz) | Crushed tomatoes canned |
| 2 tbsp | Red wine vinegar |
| 2 stick(s) | Cinnamon |
| 2 leaf | Bay leaf |
| 8 berries | Allspice, whole |
| 1 tbsp | Oregano, dried |
| 1/8 tsp | Ground cloves |
| 1/2 cup whole | Black olives (pitted) |
| 150 gm | Butter, unsalted |
Instructions
Peel the onions and garlic, and cut them in half. Brown them slightly in oil and add in the tomato paste. Stir well, and sauté with the onions for a few minutes — this will remove some of the acidic tang from the paste. Transfer the onion mixture into a Crock-Pot or a stew pot.
Sear the oxtail in a separate sauté pan, and season with salt and pepper. Wash and julienne the orange peel with a zester or a potato peeler. Juice the orange, and mix juice and orange peel into the stew along with the crushed tomatoes, vinegar, cinnamon, bay leaves, allspice, oregano, ground cloves, and olives.
Place the meat into the sauce, and deglaze the sauté pan with 2 fl. oz. (50 ml) water; pour the resulting sauce over the stew. Let it simmer in the Crock-Pot on low for about 7 to 8 hours. On the stovetop, it will take between 4 to 5 hours. Test and see if the meat is tender; if not, let it cook a little longer. Taste and adjust for seasoning as needed.
To cook the stifado in the oven, let the stew come to a boil, and then set it, covered with a tight-fitting lid, in an oven set at 200°F (100°C). Check on it after a few hours, turning the chunks of meat, and thin the sauce with some more water if it gets too thick.
After 8 hours, use a fork or toothpick to check and see if the meat is tender. If it's not ready, let it simmer for another hour.
Nutrition Facts
Per Portion
Calories from saturated fat
292
Polyunsaturated Fat
1.7 g
Monounsaturated Fat
10.2 g
Total Carbohydrate
26.9 g
Dietary servings
Per Portion
| | |
| --- | --- |
| Fruit | 0.4 |
| Meat | 2.5 |
| Vegetables | 2.2 |
Energy sources