Paleo Chicken Chow Mein
15
30
445
Ingredients
Minutes
Calories
Prep
Cook
Servings
10 min
20 min

4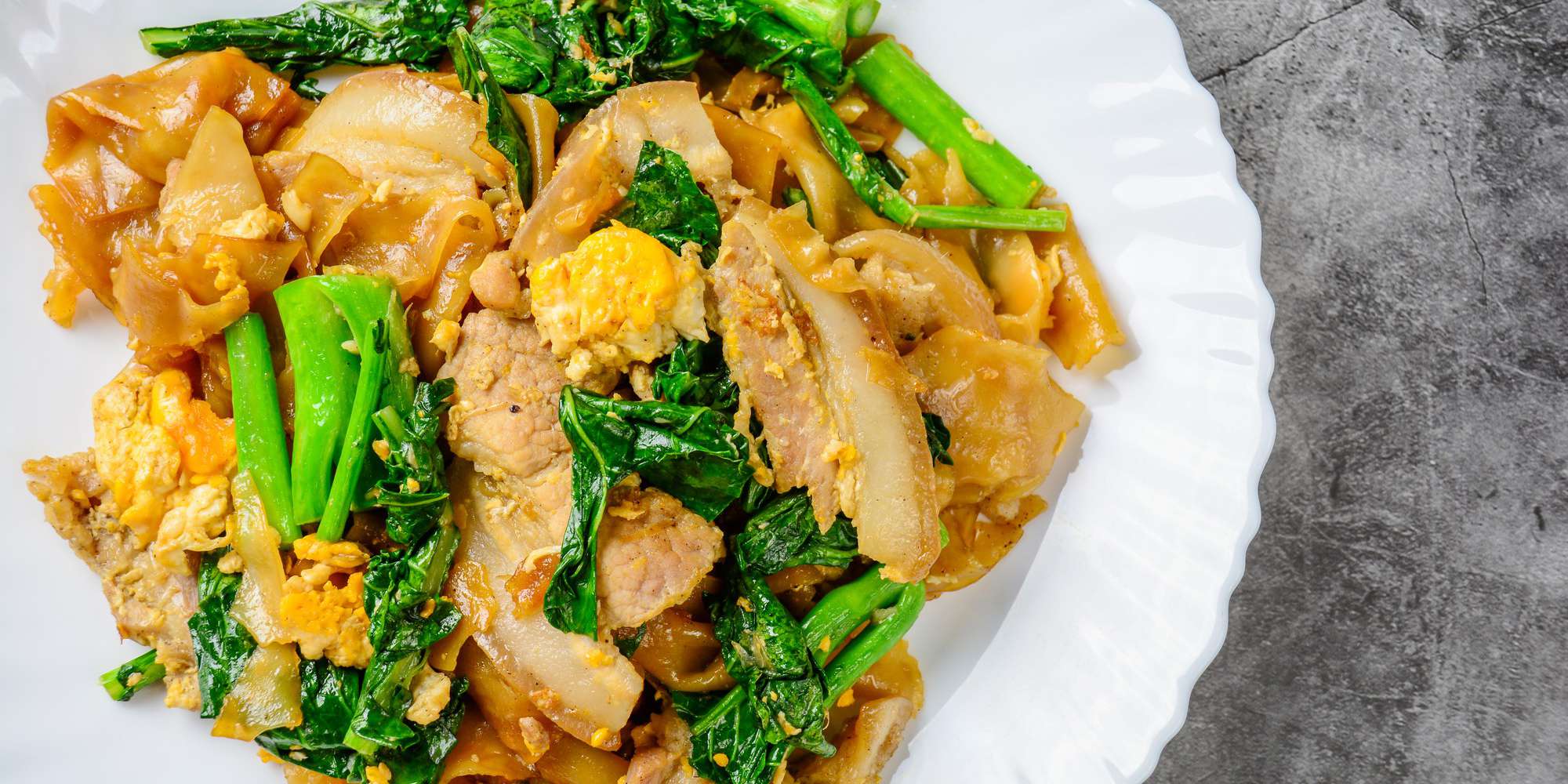 This Whole30-friendly Paleo Chicken Chow Mein is a delicious and healthy weeknight meal that uses spiralized sweet potato in place of noodles!
Ingredients
| | |
| --- | --- |
| 454 gm | Chicken thighs, boneless, skinless (cut into bite-sized pieces) |
| 5 tbsp | Avocado oil |
| 2 tbsp | Coconut aminos, Coconut Secret |
| 1 tsp | Balsamic vinegar (aged) |
| 1 tsp | Fish sauce |
| 1/2 tsp | Sesame oil |
| 2 tsp | Arrowroot flour |
| 454 gm | Sweet potato (white Hannah sweet potato; or 6 medium carrot peeled and spiralized) |
| 1 pinch | Kosher salt |
| 1 small | Yellow onion (halved and thinly sliced) |
| 114 gm | Shiitake mushrooms, raw (stemmed and sliced thinly) |
| 1 piece, 1-inch | Ginger root (peeled and cut into thin coins) |
| 2 green onion (stem) | Green onion, scallion, ramp (cut diagonally into 1/2-inch segments) |
| 142 gm | Baby spinach |
| 1/2 tsp | Red pepper flakes (crushed) |
Instructions
Place the chicken pieces in a medium bowl. Pour in 1 tablespoon avocado oil and 1 tablespoon coconut aminos. Add the aged balsamic vinegar, fish sauce, sesame oil, and arrowroot powder. Stir well to combine, and set aside.
Next, heat a large skillet over medium heat. When the skillet is hot, Add 2 tablespoons of avocado oil. Once the oil is shimmering, add the spiralized sweet potato noodles (swoodles!) in a single layer.
Fry undisturbed for 2 to 3 minutes so that some of the swoodles start to brown and crisp. (But don't let the swoodles burn!)
Sprinkle on ½ teaspoon of salt, and carefully flip the swoodles over. Cook the swoodles undisturbed for another 2-3 minutes. Transfer the swoodles to a serving dish.
Heat the now-empty skillet over medium-high. Then, add 2 tablespoons of avocado oil. Once the oil is hot, add the thinly sliced onions and sauté with a liberal sprinkle of salt. Cook for 3 to 5 minutes or until softened.
Toss in the mushrooms, ginger slices, and another sprinkle of salt. Stir-fry for about 2 minutes or until the mushrooms are cooked and the ginger is fragrant. If the pan is looking a little dry, feel free to add another tablespoon of oil.
Add the chicken and cook, stirring, until no longer pink.
Stir in the scallions and the spinach. Season the meat 'n veggies with 1 tablespoon coconut aminos and red pepper flakes. Taste and adjust the seasoning as needed.
Once the spinach is wilted, plate the chicken and veggies atop the swoodles.
Notes:
Chicken
is a great source of lean protein which is needed for muscle growth and repair!
Vegetables
provide key vitamins and minerals needed for good health and maintenance of the body!
Nutrition Facts
Per Portion
Calories from saturated fat
29.3
Polyunsaturated Fat
3.8 g
Monounsaturated Fat
14.0 g
Dietary servings
Per Portion
Energy sources