Paleo Crispy Teriyaki Chicken
10
30
535
Ingredients
Minutes
Calories
Prep
Cook
Servings
10 min
20 min

3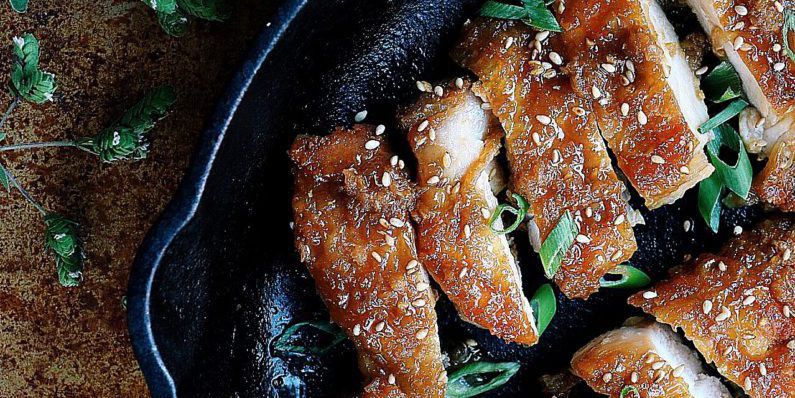 Pan fry or bake in the oven. I personally feel pan fry is quicker and easier. If you use chicken thigh, de-bone the chicken first for best results!
Ingredients
| | |
| --- | --- |
| 681 gm | Chicken thighs, with skin |
| 1 pinch | Sea salt, fine (to taste) |
| 1 tsp | Sesame seeds |
| 1 green onion (stem) | Green onion, scallion, ramp (chopped) |
| 1/2 tbsp | Ghee (tbsp) |
| 3 1/2 tbsp | Coconut aminos, Coconut Secret (Terriyaki Sauce) |
| 3/4 tbsp | Fish sauce (Red Boat brand; Terriyaki Sauce) |
| 2 tbsp | Apple cider vinegar (Terriyaki Sauce) |
| 1 tsp minced | Ginger root (Terriyaki Sauce) |
| 1 tsp | Garlic (grated; Terriyaki Sauce) |
Instructions
Pat dry the chicken and remove the bone (if you use chicken thigh). Lightly season the chicken with a bit salt over the skin.
Heat 1/2 tbsp ghee over medium/high heat. When hot, add chicken. Skin side down. Pan fry about 10 mins until the skin is crispy. *be careful about the splatter. Use a lid to cover the pan and prevent from splattering.
Flip and pan fry the other side until the chicken is completely cooked through. Drain the oil from the saute pan and set chicken aside.
Combine ingredients under "Teriyaki sauce". Heat the sauce over medium to medium-low heat. When the sauce is thickened, add chicken back to the pan. Coat the sauce over the chicken.
Wait for 5 mins before slicing the chicken into bite sizes. Sprinkle toasted white sesame seeds and chopped scallion (optional). Serve with steamed broccoli, mashed potato, or cauliflower rice.
Notes:
Chicken
is a great source of lean protein which aids in muscle growth and repair!
Nutrition Facts
Per Portion
Calories from saturated fat
104
Polyunsaturated Fat
8.2 g
Monounsaturated Fat
16.4 g
Dietary servings
Per Portion
Energy sources