Paleo Kale, Sausage & Pepper Skillet
11
45
707
Ingredients
Minutes
Calories
Prep
Cook
Servings
10 min
35 min

2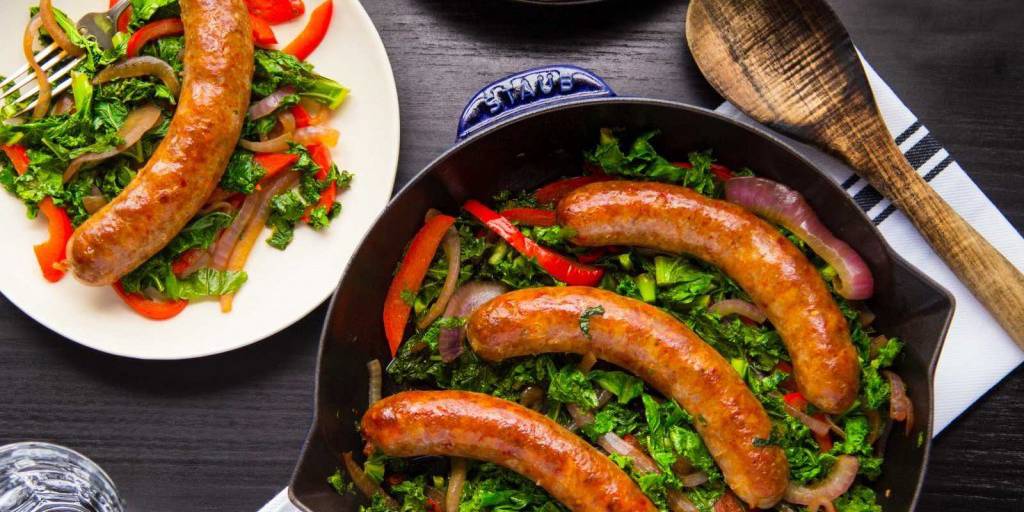 A delicious Paleo breakfast that will keep you feeling full all morning.
Ingredients
| | |
| --- | --- |
| 1 tbsp | Extra virgin olive oil |
| 1/2 large | Red onion (julienned) |
| 1/2 medium pepper(s) | Red bell pepper (julienned) |
| 3 clove(s) | Garlic (minced) |
| 4 link | Italian pork sausage (or turkey or beef) |
| 1 pepper(s) | Red chili pepper (also chile or chilli) (or jalapeño pepper) |
| 1 dash | Black pepper (to taste) |
| 1 tsp | Fennel seed |
| 1/2 cup | Water (tepid) |
| 1/2 bunch | Kale (stems removed and roughly chopped into 1" ribbons) |
| 1 1/2 tbsp hulled | Hemp seeds, shelled |
Instructions
Prep your onion, pepper and garlic and preheat your oven to 400 degrees F.
Heat an oven-safe skillet over medium heat. When the skillet is hot, add 1 tbsp oil. Add sausages to the skillet and brown for 4-5 minutes or until a golden-brown crust is formed. Flip and brown the other side for another 4-5 minutes.
Transfer sausages to a plate and set aside for the moment.
Drain all but 3 tbsp of the rendered juices in the skillet. Add in the onions, peppers, garlic and chilli. Season with a pinch of pepper. Sautée until the onions are translucent and the peppers have softened (approx. 7-10 minutes). Stir occasionally to avoid burning.
Add 1 tsp fennel seeds and cook for 1 minute to release their essential oils.
Add 1/2 cup water and scrape any brown bits off the bottom of the skillet with a spatula or wooden spoon.
Working in batches, start to add the kale 1-2 handfuls at a time. Don't worry, as the kale heats, it will significantly reduce in volume. Continue to toss it with the hot vegetables and water until it all fits into the skillet.
Once all of the kale is all in, lay the sausages over top of the wilted greens and transfer the skillet to the preheated oven.
Cook approx. 15 minutes at 400°F. When done cooking, sprinkle with 1 1/2 tbsp of hemp seeds.
Notes:
Quick Tips:
You can choose any vegetable you like, or add in a little hash to the mix for some complex carbs.
---
Nutritional Highlights:
Kale
Kale is much higher in vitamin C than most other vegetables, containing about 4.5 times much as spinach. Vitamin C is necessary for the synthesis of collagen, the most abundant structural protein in the body.
Nutrition Facts
Per Portion
Calories from saturated fat
148
Polyunsaturated Fat
6.8 g
Monounsaturated Fat
24.7 g
Total Carbohydrate
23.6 g
Dietary servings
Per Portion
| | |
| --- | --- |
| Meat | 1.8 |
| Meat Alternative | 0.3 |
| Vegetables | 3.1 |
Energy sources