Paleo Sausage & Egg McMuffin
7
20
641
Ingredients
Minutes
Calories
Prep
Cook
Servings
10 min
10 min

1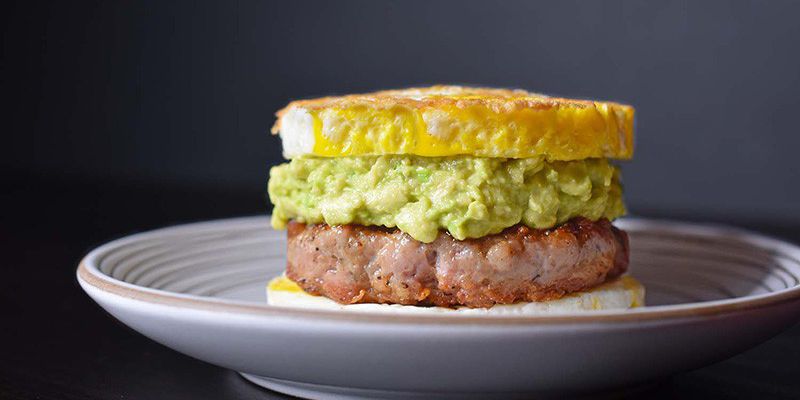 Perfect for fans of eating sausage and eggs with their hands. Besides, who needs bread when the filling is the best part?
Ingredients
| | |
| --- | --- |
| 2 tbsp | Ghee (plus more for greasing the biscuit cutters) |
| 114 gm | Breakfast sausage, mild |
| 2 large egg | Egg |
| 1 pinch | Kosher salt |
| 1 dash | Black pepper (freshly ground) |
| 1/4 cup | Water, filtered |
| 1 tbsp | Guacamole (optional) |
Instructions
Grab two stainless steel 3 ½-inch biscuit cutters, and grease the insides well with melted ghee. Place one cutter on a plate and fill it with the sausage meat.
Gently press the meat down to uniformly shape a sausage patty.
Heat a skillet over medium heat and add a tablespoon of ghee. When the fat is shimmering, add the patty to the pan. If you really want the patty to keep its perfectly round shape, you can keep the mold on until the cooked patty shrinks away from the sides. Then, lift it off and away.
Clean the biscuit cutter and grease it again.
Fry the sausage about 2 to 3 minutes on each side or until fully cooked. If your patty i€™s thick, you may need to cover the pan to make sure it is cooked through. Once the patty is ready, transfer it to a plate.
Now, make the eggy buns. Grab two small bowls and crack one egg into each. Pierce the yolks with a fork.
Heat a skillet over medium-high heat with the remaining tablespoon of ghee. (Make sure you've got a tight-fitting lid for this skillet.) When the ghee i€™s shimmering, place the two greased biscuit cutters in the pan, and pour an egg into each mold.
Season the eggs with salt and pepper to taste. Then, add ¼ cup water to the skillet (outside of the egg molds), making sure not to splash the eggs.
Turn down the heat to low, and cover the pan. Cook the eggs, covered, for about 3 minutes or until cooked through.
Transfer the eggs to a paper-towel lined plate. One easy way to do this is to slide a spatula under the mold as you tilt it up while wearing a heat-resistant glove.
Assemble the faux-€œMcMuffin€ by sandwiching the sausage patty in between the two egg rounds. If you'€™re feeling old-school, you can eat the sammie as-is, or wake up your palate with a squiggle of sriracha. But my favorite addition to this breakfast burger? A big dollop of homemade guacamole.
Notes:
Eggs
are a great source of protein and some B vitamins
Nutrition Facts
Per Portion
Calories from saturated fat
204
Polyunsaturated Fat
8.0 g
Monounsaturated Fat
17.8 g
Dietary servings
Per Portion
| | |
| --- | --- |
| Meat | 1.5 |
| Meat Alternative | 1.1 |
| Vegetables | 0.1 |
Energy sources