Paper-Wrapped Chicken
7
40
321
Ingredients
Minutes
Calories
Prep
Cook
Servings
20 min
20 min

4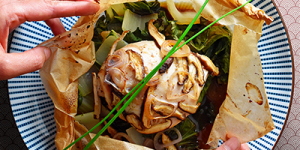 If you have my All-Purpose Stir-Fry Sauce on-hand, you can make Paper-Wrapped Chicken! It's a Whole30-friendly, all-in-one weeknight supper!
Ingredients
| | |
| --- | --- |
| 1/2 cup | Stir fry sauce, ready-to-serve (see Notes for homemade recipe) |
| 4 cup | Bok choy (sliced) |
| 1 pinch | Kosher salt |
| 1 dash | Black pepper (freshly ground) |
| 681 gm | Chicken thighs, boneless, skinless (or chicken breasts) |
| 8 mushroom(s) | Shiitake mushrooms, raw (thinly sliced) |
| 2 large shallot(s) | Shallots (thinly sliced) |
Instructions
Set the oven to 450°F with the rack in the middle position. Grab 4 large parchment sheets, and fold each in half. Draw half a heart on each sheet so that when you cut them out, you get full hearts. You know—like this:
Unfold the paper hearts and lay them flat. Place a cup of sliced bok choy on one side of each heart. Sprinkle salt and pepper on the bok choy.
Salt and pepper the chicken, too. Then, place a piece of chicken atop each pile of bok choy.
Top with ¼ of the mushrooms and shallots. Spoon 2 tablespoons of All-Purpose Stir-Fry Sauceonto each mound.
Fold the other half of each heart over the top. Tightly crimp the edges together, starting at the top-center of each heart. At the pointed bottom end, twist the paper to seal well. Repeat steps for the three remaining chicken packets.
Place the parchment packets on a rimmed baking sheet. Bake in the oven for 15 to 20 minutes or until the chicken is fully cooked. The breasts should register 150°F on an instant-read thermometer, and the thighs should register 165°F.
As soon as the packets are out of the oven, carefully cut them open. Serve immediately!
Nutrition Facts
Per Portion
Calories from saturated fat
16.2
Polyunsaturated Fat
2.3 g
Monounsaturated Fat
2.3 g
Total Carbohydrate
21.5 g
Dietary servings
Per Portion
Energy sources