Pesto Potatoes
9
50
360
Ingredients
Minutes
Calories
Prep
Cook
Servings
15 min
35 min

4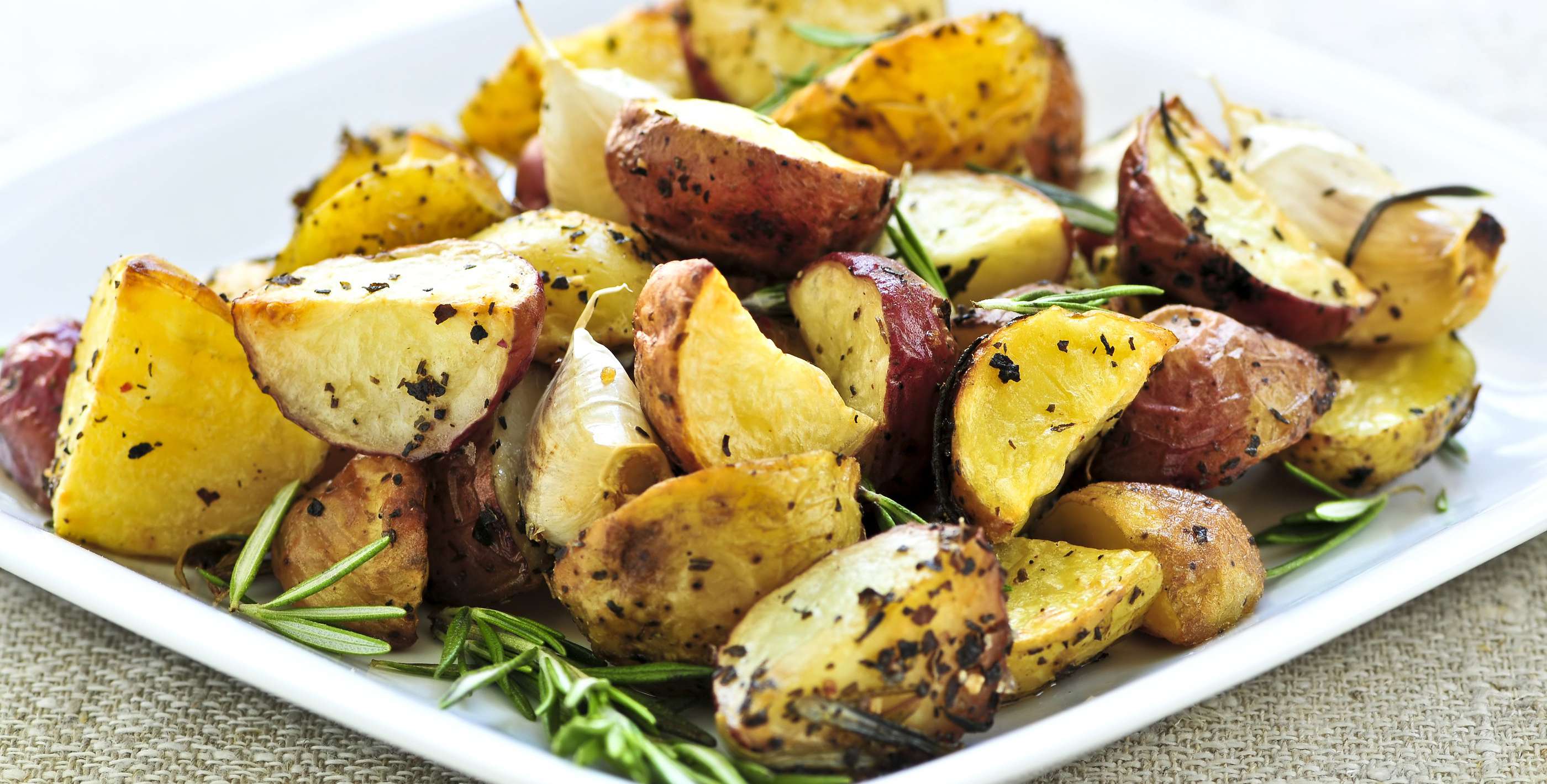 Garlic Scape Pesto Roasted Potatoes are golden and crispy with a punch of flavor from the pesto.
Ingredients
| | |
| --- | --- |
| 6 cup | Red mini potato (washed and cut into quarters - organic) |
| 2 tbsp | Avocado oil |
| 1/4 cup | Extra virgin olive oil |
| 6 scape | Garlic scapes (chopped, for pesto) |
| 1 whole lemon(s) | Lemon juice |
| 1 tbsp hulled | Hemp seeds, shelled |
| 1 tbsp | Nutritional yeast |
| 1 pinch | Sea salt |
| 1 dash | Black pepper |
Instructions
1. Preheat the oven to 350°F and line a baking sheet with parchment paper.
2. Toss the potatoes in the oil and spread evenly on the lined baking sheet. Place in the oven and cook for 15 minutes.
3. While the potatoes are cooking, make the garlic scape pesto by placing the garlic scapes in a food processor and pulsing until minced. Add the olive oil, lemon juice, hemp seeds and nutritional yeast and pulse until mixed. Add salt and pepper to taste.
4. Remove the potatoes from the oven pour the pesto over the potatoes.
5. Toss the potatoes in the pesto and return to the oven to cook for an additional 15 to 25 minutes, until the potatoes are golden and cooked through.
Notes:
Health Benefits of Garlic Scapes
Have you seen garlic scapes at the farmer's market? They are the soft green stems tipped with unopened flowers that grow out of hard-neck garlic. Garlic scapes are harvested early summer and mid-fall, before the flowers open, to allow the plant to focus on the garlic bulb rather than pollination. They have a mild garlic flavor and a slight sweetness making them delicious in pesto, salmon cakes, stir-fries and even raw in salads! Garlic Scapes contain components that reoxygenate the blood and maintain healthy tissues and organs. They also contain allium compounds that inhibit the enzymes responsible for breaking down bones, thus helping prevent osteoarthritis.
Nutrition Facts
Per Portion
Calories from saturated fat
24.8
Polyunsaturated Fat
2.5 g
Monounsaturated Fat
15.0 g
Dietary servings
Per Portion
Energy sources