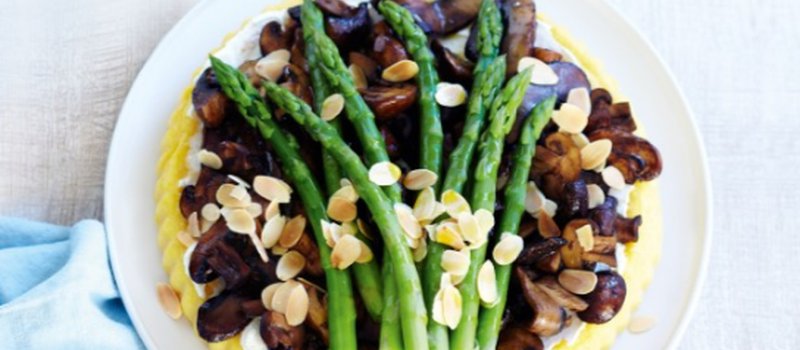 Polenta with Mushrooms & Roasted Asparagus
Prep
Cook
Ready in
Servings
10 min
50 min
1 h

4
Ingredients
| | |
| --- | --- |
| 1 1/2 cup | Water (for polenta) |
| 1 1/2 cup | Vegetable stock/broth (for polenta) |
| 1 tbsp | Extra virgin olive oil (for polenta) |
| 1 tsp | Salt (for polenta) |
| 1 cup | Cornmeal (yellow) (for polenta) |
| 1 bunch, trimmed | Asparagus (cut into pieces, for asparagus) |
| 1 tbsp | Olive oil (for asparagus) |
| 1 pinch | Herbamare original (for asparagus) |
| 1 dash | Garlic powder (for asparagus) |
| 1/8 tsp | Onion powder (for asparagus) |
| 1 package (227g) | Cremini (Italian) mushroom (or white, for mushrooms) |
| 1 tbsp | Extra virgin olive oil (or vegan margarine, for mushrooms) |
| 1/4 cup | Vegetable stock/broth (for mushrooms) |
| 2 tbsp | White wine (for mushrooms) |
| 1 pinch | Herbamare original (for mushrooms) |
| 1/4 tsp | Parsley, dried (for mushrooms) |
Instructions
Asparagus
Toss asparagus with olive oil and seasonings. Spray baking pan with cooking spray and add asparagus.Bake in oven at 375 for 35-40 (or until roasted), tossing occasionally.

Mushroom sauce
Heat oil or margarine in skillet. Saute sliced mushrooms on med heat until the become soft and slightly browned. Add veggie broth, wine and seasonings and bring to a simmer.
Simmer until sauce reduces a little.
Polenta
1. Add broth/water, olive oil and salt to a saucepan and bring to boil. Slowly add cornmeal in a steam into pan, while continually whisking. Continue to whisk (or stir) for a few minutes until polenta is thick and creamy.
2. You can spoon from pan into serving dish when ready, or spoon into a greased pan. If using pan, the polenta will firm up and you can cut into squares and re-heat when ready.

3. Place polenta on serving dish. Add roasted asparagus on top of polenta. Top off with mushroom sauce. Garnish with micro-greens or herbs.

Serve and enjoy!
Nutrition Facts
Per Portion
Calories from saturated fat
23.9
Polyunsaturated Fat
3.7 g
Monounsaturated Fat
12.4 g
Dietary servings
Per Portion
Energy sources
Notes:
Asparagus
is a great source of fiber and vitamins A, C and E
About
Contact Us
Meal Garden, 326 1/2 Bloor Street West, Unit 4, Toronto, Ontario, M5S 1W5, Canada