Pork and Napa Cabbage Soup
12
30
286
Ingredients
Minutes
Calories
Prep
Cook
Servings
10 min
20 min

6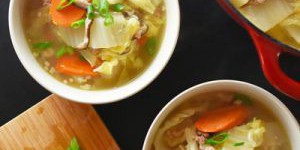 Yearning for comfort in a bowl? This one-pot, umami-packed Pork and Napa Cabbage Soup fits the bill and it can be in your mouth in about 30 minutes!
Ingredients
| | |
| --- | --- |
| 1 tsp | Ghee (or fat of choice) |
| 1 small | White onion (diced) |
| 1 pinch | Kosher salt |
| 454 gm | Chicken, ground, lean (pork, beef, or turkey would also work) |
| 6 mushroom(s) | Shiitake mushrooms, raw (stemmed and thinly sliced; dried and reconstituted 'shrooms work; too) |
| 2 clove(s) | Garlic (minced) |
| 6 cup | Bone broth, Organic (or regular stock) |
| 908 gm | Napa cabbage, raw (or bok choy or Savoy cabbage; cut crosswise into 1-inch segments) |
| 2 large | Carrots (peeled and sliced into coins) |
| 1 large | Russet potato (peeled and cut into 1-inch cubes) |
| 1 dash | Black pepper (freshly ground) |
| 3 green onion (stem) | Green onion, scallion, ramp (thinly sliced) |
Instructions
Heat the ghee in a large pot over medium heat. When the fat is shimmering, toss in the diced onion with a sprinkle of salt. Sauté the onions, stirring occasionally, until softened (about 3 minutes).
Add the ground pork and break it up with a spatula. Stir in the sliced mushrooms and another sprinkle of salt. Cook the pork and mushrooms until the meat is no longer pink and the shiitakes are tender (about 5 to 7 minutes).
Stir in the minced garlic and cook until fragrant, about 30 seconds.
Pour in the broth and crank up the heat to high. Bring everything to a boil.
Then, stir in the cabbage, carrots and potato, and bring the soup back to a boil. Don't worry about cramming too many veggies into the pot—the cabbage will cook down!
Lower the heat to medium or medium low to maintain a simmer, and partially cover the soup with a lid, leaving a crack so it doesn't boil over. Simmer the soup, stirring occasionally until the vegetables are easily pierced with a fork (about 15 minutes). Peek under the lid to make sure that the soup isn't boiling over or barely percolating, and adjust the heat up or down as needed.
If you want to make this soup in a pressure cooker, sauté the ingredients in the pressure cooker as directed above. When you're ready to simmer the soup, close and lock the lid; then, cook it under high pressure for 3-5 minutes. Release the pressure manually when the soup is finished cooking.
Season to taste with salt and freshly ground black pepper. Ladle into bowls and garnish with fresh scallions.
Nutrition Facts
Per Portion
Calories from saturated fat
30
Polyunsaturated Fat
2.1 g
Monounsaturated Fat
4.7 g
Total Carbohydrate
23.5 g
Dietary servings
Per Portion
Energy sources