Pork Chops and Peppers
10
30
227
Ingredients
Minutes
Calories
Prep
Cook
Servings
10 min
20 min

4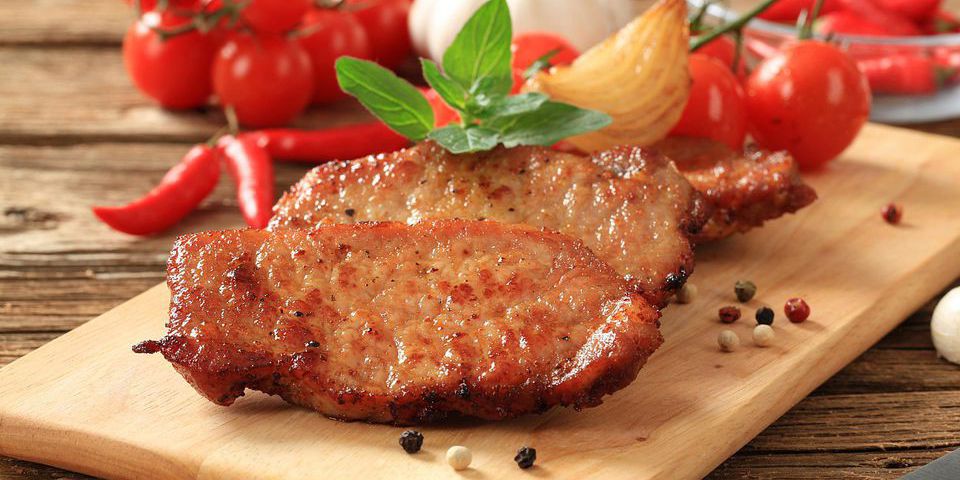 Juicy and tender pork chops for a nice weekend meal!
Ingredients
| | |
| --- | --- |
| 4 chop (151 g) | Pork chop, loin centre cut, bone-in, lean ((3/4 inch) thick; room temperature) |
| 2 pinch | Salt and pepper (to taste) |
| 2 tbsp | Olive oil |
| 1 medium | White onion (chopped) |
| 2 clove(s) | Garlic (minced) |
| 2 medium pepper(s) | Red bell pepper (seeded and cut into strips) |
| 3 tbsp | Worcestershire sauce |
| 1 cup | Vegetable stock/broth, low sodium (or chicken) |
| 1 tsp, leaves | Thyme, dried |
| 1/2 tsp | Marjoram (dried) |
Instructions
1. Sprinkle the chops on both sides with the salt and pepper.
2. Heat the olive oil in a heavy skillet over medium-high heat and add the chops, onion, and garlic.
3. Cook the chops for 5 minutes on one side, shaking the pan frequently so garlic doesn't burn, then turn chops and add the pepper strips.
4. Cover and cook 5 to 8 minutes longer or until the pork registers at least 145°F.
5. Remove the chops, onions, garlic, and the peppers from the skillet and set aside, covered to keep warm.
6. Add the Worcestershire sauce, water or chicken broth, thyme, and marjoram to the drippings remaining in the skillet, scraping the bottom of the skillet with a rubber spatula to loosen the pan drippings that contain lots of flavors.
7. Cook until the sauce thickens slightly, then return the pork and vegetables to the skillet.
8. Cook for 1 minute longer to coat the pork with the sauce, then serve.
Notes:
No peppers?
have oven roasted asparagus or sautéed green beans
---
Nutritional Highlights
Pork chops
are high in niacin which is important for the breakdown of fats and carbohydrates, it also aids in new cell growth and development and are a great source of protein. One serving of Pork is about the size of a deck of cards.
Nutrition Facts
Per Portion
Calories from saturated fat
23.9
Polyunsaturated Fat
2.4 g
Monounsaturated Fat
9.0 g
Total Carbohydrate
10.0 g
Dietary servings
Per Portion
Energy sources