Pre-Workout Smoothie for Fitness Rangers
6
5
339
Ingredients
Minutes
Calories
Prep
Cook
Servings
5 min
0 min

1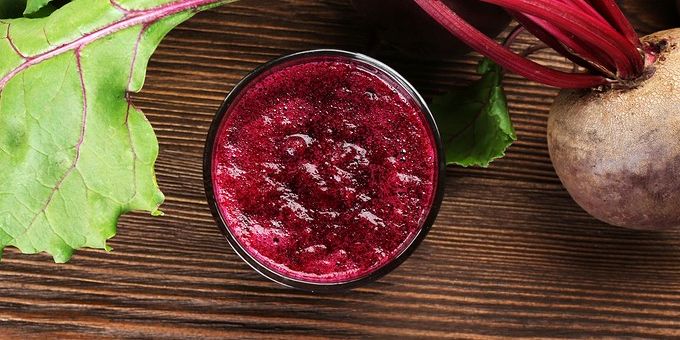 A great way to kick start your workout!
Ingredients
| | |
| --- | --- |
| 2 tbsp | Pea Protein Powder |
| 3/4 cup | Cashew milk, unsweetened |
| 2 tbsp | Cacao powder, raw |
| 1 tsp | Coconut oil |
| 2 beet(s) | Beets, raw (chopped or shredded; depending on blender strength - can freeze beforehand for chilled smoothie) |
| 1 tbsp | Dried goji berries |
Instructions
1. Mix everything into a high-powered blender and enjoy.


Notes:
Pea protein
supplies a unique array of amino acids, the building blocks of body tissue (including skin, hair and nails), muscles, DNA/RNA, hormones, enzymes that help your body function normally, and even your immune system! Being rich in lysine and arginine, pea protein is especially beneficial for active lifestyles.

Cacao powder
is mineral rich and brings a nice chocolately flavour which goes great with the beets - the perfect pre-workout ingredient due to the naturally occurring nitrates present in beets, which reduce the oxygen needed for exercise (the nitrates convert to nitrate oxide in the body, helping to relax and dilate the blood vessels). Goji berries also add some sweetness, and have a gelling quality which helps to give the smoothie some body and "bulkyness". Coconut oil is amazing for hormonal health and provide this drink with the quality fats to keep you going as you work your body (fats keep you feeling satiated).
Nutrition Facts
Per Portion
Calories from saturated fat
46
Polyunsaturated Fat
0.3 g
Monounsaturated Fat
0.8 g
Dietary servings
Per Portion
| | |
| --- | --- |
| Fruit | 0.3 |
| Meat Alternative | 1.5 |
| Vegetables | 2.3 |
Energy sources