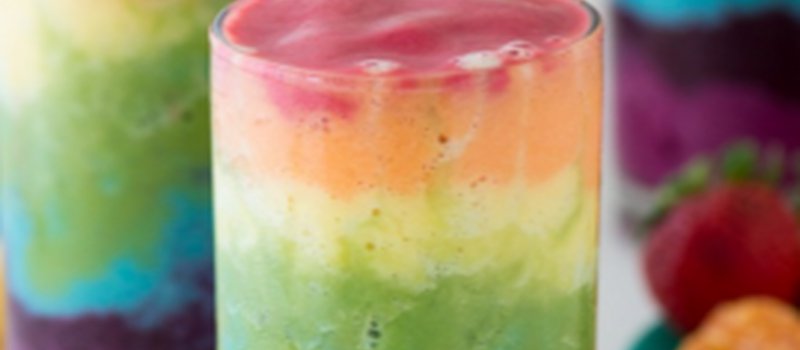 Rainbow Smoothie
Prep
Cook
Ready in
Servings
15 min
0 min
15 min

4
Ingredients
| | |
| --- | --- |
| 1 small | Banana (frozen, for red layer) |
| 1 small | Banana (for magenta layer) |
| 1 large | Banana (for purple layer) |
| 1 large | Banana (for green layer) |
| 1 small | Banana (for orange layer) |
| 1 beet(s) | Beets, raw (sliced, for magenta layer) |
| 1 cup | Frozen blueberries (for purple layer) |
| 1/4 cup | Frozen mango (for orange layer) |
| 1/2 cup | Frozen raspberries (for magenta layer) |
| 1/2 cup | Frozen raspberries (for red layer) |
| 1/2 cup | Frozen strawberry (for red layer) |
| 1/2 cup | Greek yogurt, plain, fat-free (for red layer) |
| 1/2 cup | Greek yogurt, plain, fat-free (for purple layer) |
| 1/2 cup | Greek yogurt, plain, fat-free (for magenta layer) |
| 1/2 cup | Greek yogurt, plain, fat-free (for green layer) |
| 1/2 cup | Greek yogurt, plain, fat-free (for orange layer) |
| 1 small | Orange (peeled, for orange layer) |
| 1/2 cup slices | Peach (frozen, for orange layer) |
| 1 cup diced | Pineapple (optional frozen, for green layer) |
| 3/4 cup | Spinach (for green layer) |
| 1/2 cup | Water (for blending, for purple layer) |
| 1/2 cup | Water (for blending, for orange layer) |
| 1/2 cup | Water (as needed for blending, for red layer) |
| 1/2 cup | Water (for blending, for green layer) |
Instructions
Place all the ingredients in a blender and blend until smooth. Add more liquid to help it blend if too thick.

Transfer the smoothie to a bowl or container, rinse the blender and prep the next smoothie, for the next colour.

To assemble the rainbow smoothie, carefully layer each colour smoothie in glasses in rainbow order. Top each smoothie with a toothpick filled with leftover fruit.

Serve and enjoy!
Nutrition Facts
Per Portion
Calories from saturated fat
2.4
Polyunsaturated Fat
0.3 g
Monounsaturated Fat
0.1 g
Dietary servings
Per Portion
| | |
| --- | --- |
| Fruit | 3.9 |
| Milk Alternative | 0.9 |
| Vegetables | 0.5 |
Energy sources
About
Contact Us
Meal Garden, 326 1/2 Bloor Street West, Unit 4, Toronto, Ontario, M5S 1W5, Canada