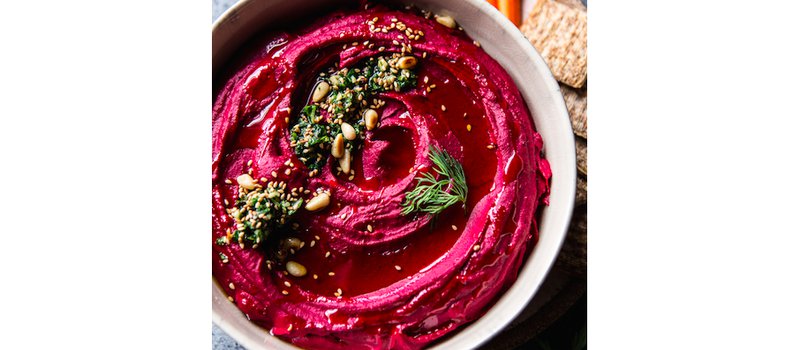 Roasted Beet & Nut Hummus
Prep
Cook
Ready in
Servings
10 min
1 h
1 h 10 min

6
Ingredients
| | |
| --- | --- |
| 1 can (15oz) | Chickpeas, canned, low sodium (drained & rinsed) |
| 1 beet(s) | Beets, raw (roasted) |
| 1 whole lemon(s) | Lemon peel (zest) |
| 1/2 whole lemon(s) | Lemon juice |
| 1 bulb | Garlic (roasted) |
| 1 pinch | Salt and pepper (to taste) |
| 2 tbsp | Tahini (to taste) |
| 2 tbsp | Walnuts |
| 2 tbsp | Pine nuts, dried |
| 1/4 cup | Extra virgin olive oil |
Instructions
Quarter the beet and place it in your food processor. Blend until only small bits remain.
Add remaining ingredients except for olive oil and blend until smooth.
Drizzle in olive oil as the hummus is mixing.
Taste and adjust seasonings as needed, adding more salt, lemon juice, or olive oil if needed. If it's too thick, add a bit of water.
Advanced Preparation
1 - 3 days prior [optional], Beets, raw 1 beet(s)
Instructions:
1. Preheat oven to 375°F (190°C), remove the stem and most of the root from your beet, and scrub and wash it underwater until clean.
2. Wrap beet in foil and roast for 1 hr or until a knife inserted falls out without resistance.
3. Remove from tin foil and store in a container in the fridge.
1 - 3 days prior [optional], Garlic 1 bulb
Instructions:
1. Preheat your oven to 400°F (205° C). (A toaster oven works great for this.)
2. Peel and discard the papery outer layers of the whole garlic bulb, leaving intact the skins of the individual cloves of garlic.
3. Using a sharp knife, cut 1/4 to a 1/2 inch from the top of cloves, exposing the individual cloves of garlic.
4. Place the garlic head in a baking dish, cut side up.
5. Drizzle a couple teaspoons of olive oil over the exposed head.
6. Cover the baking dish with aluminum foil and bake for 30-35 minutes, or until the cloves feel soft when pressed.
7. Let cool.
8. Use a cocktail fork or your fingers to pull or squeeze the roasted garlic cloves out of their skins.
Nutrition Facts
Per Portion
Calories from saturated fat
19.6
Polyunsaturated Fat
4.5 g
Monounsaturated Fat
8.7 g
Total Carbohydrate
15.4 g
Dietary servings
Per Portion
| | |
| --- | --- |
| Meat Alternative | 0.7 |
| Vegetables | 0.7 |
Energy sources
Notes:
Beets
the nitrates and pigments in beets may help to lower blood pressure and increase athletic performance
About
Contact Us
Meal Garden, 326 1/2 Bloor Street West, Unit 4, Toronto, Ontario, M5S 1W5, Canada